Definitely. No question.
To illustrate my point: I'm an Emily. My surname is one syllable, it's not crazy common, especially not the way we spell it, but it's definitely not unusual. A month or two ago, I went to a new GP, because my usual pratice was closed on a Saturday afternoon. My mother had seen this one before, so she said who she was on the phone and said she was bringing in her daughter Emily.
When we got there, I didn't sign any forms or anything, which I did momentarily think about, but then I saw the doctor, etc, forgot about it. Back at the reception I got a referral printed out, and it was lucky I did because lo and behold, that Emily Surname was not me, but some other patient (similar age to me!) on their books. Wah. I didn't think my whole full name was that common, but there you go.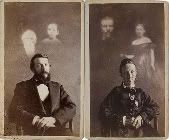 http://darlingno.blogspot.com