When you take account all the different spellings of
Aiden
(
Aidan
,
Ayden
,
Aden
,
Aydan
etc etc, including the more legit ones you mentioned), it's definitely more popular/trendy. I can't think of too many ways to spell
Noah
.*
If you put all the ways of plausibly spelling
Aidan
, it comes out on top. See here:
http://www.namenerds.com/uucn/pop/2010/2010xy1.html
And I think the thing with Irish names, not that I would say there's a crazy trend going on (but I'll grant that there are a few Anglicised names floating around in the top 100), is that a lot of Americans are claiming this Irish-American heritage. Oh brother. One of my friends is recently returned from a year in
Ireland
. She was on a group tour for the first two weeks, and the number of Americans "visiting their homeland" on the tour with her was insane. And a tad ridiculous. We just don't have that in Australia, even though we too have a history of Irish immigration.
I'll buy an Irish trend when I see little American girls named
Niamh
and
Caoimhe
at the same rate as I see them in Australia - unusual-ish but not totally unheard of. I have a six-year-old cousin
Niamh
and a six-month-old cousin
Maeve
. And one of my close friends is a
Meabh
.
* don't claw your eyes out, but 60 boys were named
Noa
in 2010, 6 named Noahh, 7 named Knoah and 5 named Noha.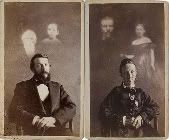 http://darlingno.blogspot.com