Sorry for lateness! I'll try and make them the right level of difficulty. That is, probably quite easy.
#1: "Get in loser, we're going shopping."
#2: (fishing false teeth out of a glass): "Carpe dentum. Seize the teeth."
#3: "I'm packing you an extra pair of shoes, and your angry eyes, just in case."
#4: "Suddenly, a familiar song. And, you're off your chair in one, exquisite movement... wondering, searching, sniffing the wind like a dapple deer. Has God heard your little prayer? Will Cinderella dance again? And then, suddenly, the crowds part and there he is: sleek, stylish... radiant with charisma. Bizarrely, he's on the telephone. But then, so are you. And then he comes towards you... the moves of a jungle cat. Although you quite correctly sense that he is... gay... like most devastatingly handsome single men of his age are, you think... what the hell. Life goes on. Maybe there won't be marriage... maybe there won't be sex... but, by God, there'll be dancing."
#5: "There was more than one lobster present at the birth of Jesus?"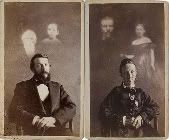 http://darlingno.blogspot.com