My flatmate Courtney and I adopted two cats a year and a half ago when our elderly neighbour passed away. Her cats were going to be sent to a shelter before we stepped in and so we welcomed Betsy Lou and Gracie May. Don't be fooled by their cutesy names, our cats are evil geniuses. Shortly after Besty and Gracie arrived, my boyfriend B and his dog Polly moved in. A couple of months after that we adopted Polly's sister Pippa as well (she had lived with B's parents previously but they didn't have enough time to look after her anymore). B and I adopted Edward in November as B lives with
waaaay
too many females (4 ladies, 2 lady cats and 2 lady dogs).
This is Betsy Lou, scouring the wilderness (i.e. our neighbour's garden) for tasty treats to hide in our bed as a symbol of her love for us.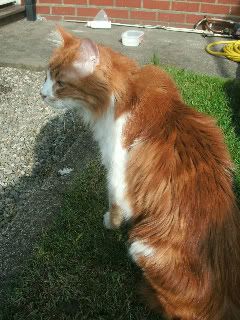 Gracie May, keeping up the pretence of being a cute little kitten whilst really orchestrating an evil empire, designed at the elimination of the Dumb Dogs from the Catlands: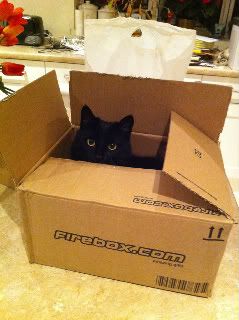 This is Polly, innocently going about her daily routine of sleeping, eating things that make her throw up and being tormented by cat attacks: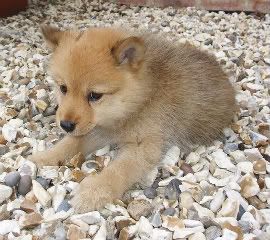 And big sister Pippa, being lulled into a false truce with the connivinng enemy Gracie May:
B likes to pretend that our pets are all geniuses. I'm pretty sure that Edward is lacking a few key mental functions. Whilst having fun walkies at the beach today, Eddie decided to go for a swim. Only Eddie decided he doesn't like water and needed me to strip down half naked to rescue him whilst B looked on laughing in hysterics. After completing my heroic rescue from waste-deep water, B promptly wrapped Eddie up in a towel and showered him with love and affection. Shows who he loves the most... Although, Eddie has been poorly the last few weeks and has just got the OK from the vet so even I have been a little more forgiving of his general idiocy this week!