Form of Latin
Marcus
used in several languages.
Saint
Mark was the author of the second gospel in the
New Testament
. Though the author's identity is not certain, some traditions hold him to be the same person as the John Mark who appears in the Book of Acts. He is the patron saint of Venice, where he is supposedly buried. Though in use during the Middle Ages,
Mark
was not common in the English-speaking world until the 19th century, when it began to be used alongside the classical form
Marcus
.In the medieval legend of
Tristan
and
Iseult
this was the name of a king of Cornwall. It was also borne by the American author Mark Twain (1835-1910), real name Samuel Clemens, the author of
The Adventures of Tom Sawyer
and
Adventures of Huckleberry Finn
. He took his
pen name
from a call used by riverboat workers on the Mississippi River to indicate a depth of two fathoms. This is also the usual English spelling of the name of the 1st-century BC Roman triumvir Marcus Antonius (Mark Antony).
People think this name is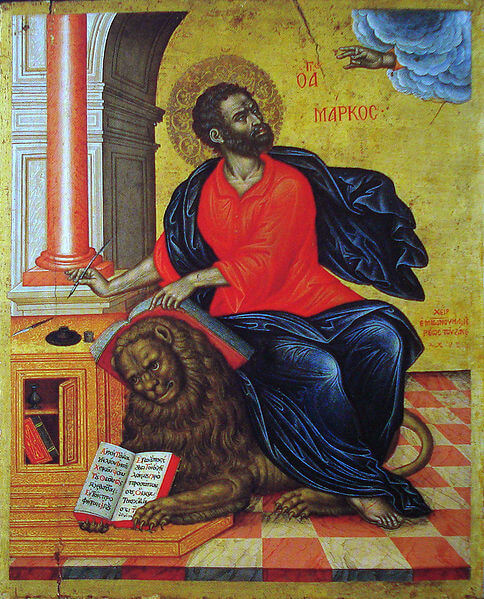 Saint Mark the Evangelist by Emmanuel Tzanes (1657)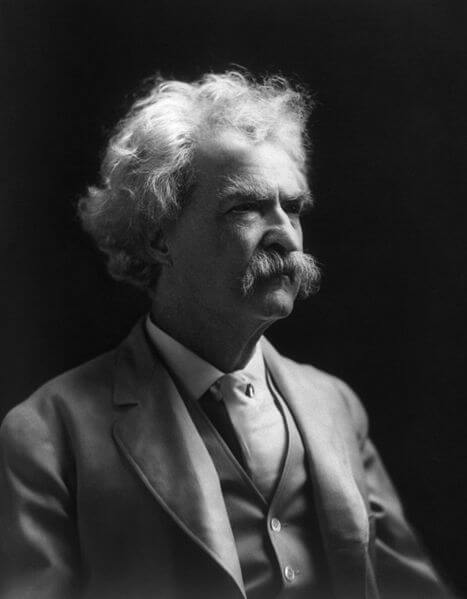 Mark Twain (1909)
1950s
,
1960s
,
A Song of Ice and Fire characters
,
alpinists
,
American Horror Story characters
,
Anne Rice characters
,
Archive 81 characters
,
artists
,
Ascendance of a Bookworm characters
,
astronauts
,
authors
,
aviation
,
Baccano characters
,
Barry Lyndon
,
baseball players
,
books of the Bible
,
British royal family
,
Bungo Stray Dogs characters
,
Charles Dickens characters
,
Chasers
,
composers
,
Cowboy Bebop characters
,
David Mitchell characters
,
directors
,
Downton Abbey characters
,
Dream SMP members
,
drummers
,
English verbs
,
Eurovision 2022
,
evangelists
,
Fairly Oddparents characters
,
Fire Emblem characters
,
Flack characters
,
Frasier characters
,
Fringe characters
,
Harry Belafonte repertoire
,
Harry Potter characters
,
House of Cards US characters
,
isograms
,
Keeping Up Appearances characters
,
Kennedy family
,
keyboardists
,
Life is Strange characters
,
Lorien Legacies characters
,
love island Australia
,
love island Finland
,
love island Germany
,
Mare of Easttown characters
,
mountaineers
,
NASCAR
,
nautical
,
never out of the US top 1000
,
Orthodox saints
,
painters
,
Parks and Recreation characters
,
Path of the Ranger characters
,
patron saints
,
popes
,
Quantico characters
,
quizzers
,
Resident Evil characters
,
Roseanne characters
,
saints
,
Saturday Night Live cast
,
scientists
,
Sims 4 characters
,
skiffle
,
Slovenia in the Eurovision Song Contest
,
Spice and Wolf characters
,
Star Trek actors
,
Star Wars actors
,
Stephen King characters
,
surfers
,
Tennessee Williams characters
,
The Great British Bake Off contestants
,
The Last of Us characters
,
The Man in the High Castle characters
,
The Midnight Club characters
,
The Walking Dead game characters
,
The West Wing characters
,
The White Lotus characters
,
theophoric names
,
Tiger and Bunny characters
,
Tomb Raider characters
,
top 10 in Egypt Coptic Christians
,
top 10 in Estonia
,
top 10 in Moscow
,
top 10 in Slovenia
,
top 10 in the Netherlands
,
top 10 in the US
,
Tori Amos lyrics
,
trendy
,
Two and a Half Men characters
,
Virtua Tennis opponent characters
,
war
,
warrior
,
Wii Sports Club opponent Miis
,
Wii Sports series opponent Miis
,
Will and Grace characters
,
William Faulkner characters
,
writers
,
Xeno characters
,
YouTubers
,
Ys characters