I've found lots of info about the meaning and Greek origin of the name Melody but does anyone know when Melody started being used as a girl's first name? I was thinking that maybe forms like Melodia, Melodie or the Ancient Greek name Eumelia were used first and that the modern spelling Melody was used later.
The Social Security Online shows Melody first on the popularity charts in the 1960's but would it have been used as a name before that time?
Are there any online resources that tell about when certain names first began to be used?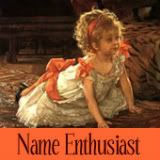 http://NameEnthusiast.blogspot.com