From the Germanic name
Hugo
, derived from the Old Frankish element
hugi
, Old High German
hugu
meaning
"mind, thought, spirit"
(Proto-Germanic *
hugiz
). It was common among Frankish and French nobility, being borne by Hugh Capet, a 10th-century king of France who founded the Capetian dynasty. The
Normans
brought the name to England and it became common there, even more so after the time of the 12th-century bishop
Saint
Hugh of Lincoln, who was known for his charity. This was also the name of kings of Cyprus and the crusader kingdom of Jerusalem. The name is used in Ireland and Scotland as the Anglicized form of
Aodh
and
Ùisdean
.
People think this name is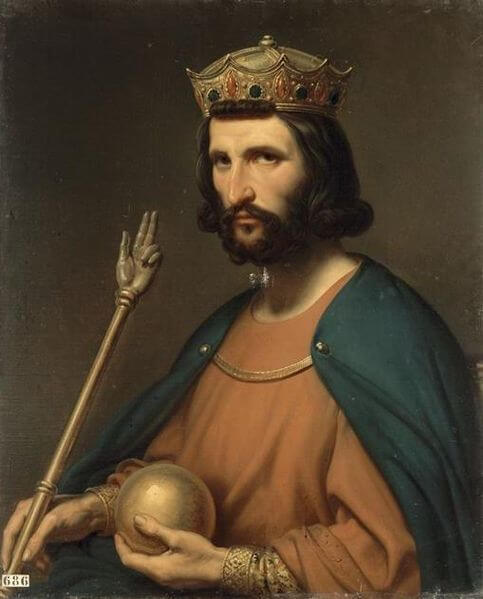 19th-century depiction of Hugh Capet
A Song of Ice and Fire characters
,
Ace Attorney characters
,
Animal Crossing characters
,
Attlee ministry
,
baseball players
,
bass guitarists
,
Castlevania characters
,
Charles Dickens characters
,
Dantalian no Shoka characters
,
Downton Abbey characters
,
Fire Emblem characters
,
flugelhornists
,
Game of Thrones characters
,
Gone with the Wind characters
,
heart
,
His Dark Materials characters
,
intelligence
,
Ireland in the Eurovision Song Contest
,
Jimmy Neutron characters
,
keyboardists
,
kings
,
nobility
,
Oscar Wilde characters
,
Phantasy Star characters
,
Pokemon characters
,
Poldark characters
,
R.E.M. lyrics
,
reggae musicians
,
Robert A. Heinlein characters
,
saints
,
Shakespearean characters
,
spirit
,
Star Trek characters
,
The Haunting characters
,
The Nanny characters
,
The Sopranos characters
,
TV presenters
,
Ursula K. Le Guin characters
,
Virginia Woolf characters
,
Welsh actors
,
William Faulkner characters
,
wisdom
,
YouTubers