Possibly means
"star"
in Persian. Alternatively it could be a derivative of the name of the Near Eastern goddess
Ishtar
. The Book of Esther in the
Old Testament
tells the story of Queen Esther, the Jewish wife of the king of Persia. The king's advisor
Haman
persuaded the king to exterminate all the Jews in the realm. Warned of this plot by her cousin
Mordecai
, Esther revealed her Jewish ancestry and convinced the king to execute Haman instead. Her original Hebrew name was
Hadassah
.This name has been used in the English-speaking world since the
Protestant Reformation
. In America it received a boost in popularity after the birth of Esther Cleveland (1893-1980), the daughter of President Grover Cleveland
[1]
.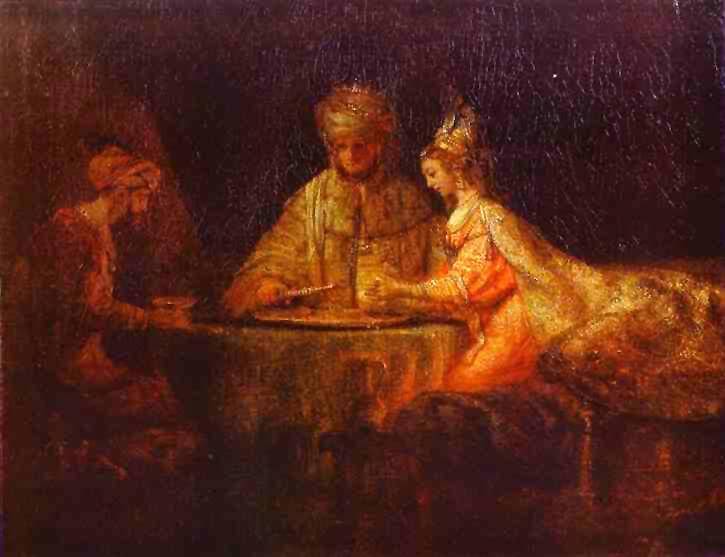 Ahasuerus and Haman at the Feast of Esther by Rembrandt (1660)
People think this name is
classic
mature
formal
upper class
natural
wholesome
strong
refined
strange
serious
nerdy
biblical women
,
books of the Bible
,
celestial
,
Charles Dickens characters
,
Cheers characters
,
Eurovision Song Contest winners
,
Genshin Impact characters
,
goddesses
,
Gundam characters
,
history
,
Jane Austen characters
,
Louisa May Alcott characters
,
never out of the US top 1000
,
Poldark characters
,
queens
,
stars
,
The Golden Girls characters
,
The Marvelous Mrs. Maisel characters
,
top 10 in Kenya
,
top 10 in the Netherlands
,
Trinity Blood characters
,
uncertain etymology
,
Vampire Diaries characters
,
Virtua Tennis opponent characters
,
YouTubers
Evans, Cleveland Kent. The Great Big Book of Baby Names. Publications International, 2006, page 423.