From a Norman French form of a Frankish name. The second element is Old German
fridu
"peace", while the first element could be *
gautaz
"Geat" (a North Germanic tribe),
gawi
"territory" or
walah
"foreigner". It is possible that two or more names merged into a single form. In the later Middle Ages
Geoffrey
was further confused with the distinct name
Godfrey
.The
Normans
introduced this name to England where it became common among the nobility. Famous medieval literary bearers include the 12th-century chronicler Geoffrey of Monmouth and the 14th-century poet Geoffrey Chaucer, writer of
The Canterbury Tales
. By the end of the Middle Ages it had become uncommon, but it was revived in the 20th century, often in the spelling
Jeffrey
.
People think this name is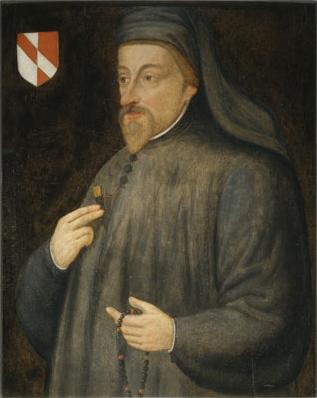 17th-century depiction of Geoffrey Chaucer
2020's Grand Slam tennis players
,
alpinists
,
Barry Lyndon
,
Charles Dickens characters
,
currently out of the US top 1000
,
de Havilland family
,
Dharma and Greg characters
,
Disgaea characters
,
Fairy Tail characters
,
fashion designers
,
figure skaters
,
Fire Emblem characters
,
mascots
,
mountaineers
,
peace
,
photographers
,
poets
,
Poldark characters
,
Sims 4 characters
,
Tamora Pierce characters
,
Thomas Hardy characters
,
Total Drama characters
,
travel
,
W. Somerset Maugham characters
,
y vowels
,
YouTubers