Meaning unknown, possibly derived from the Germanic root *
luką
meaning
"lock"
. In Norse
mythology
Loki was a trickster god associated with magic and shape shifting. Loki's children include the wolf
Fenrir
, the sea serpent
Jörmungandr
, and the queen of the dead
Hel
. After he orchestrated the death of
Balder
, the other gods tied him to a rock below a snake that dripped venom onto his face. It is told that he will break free during Ragnarök, the final battle, and slay and be slain by
Heimdall
.
People think this name is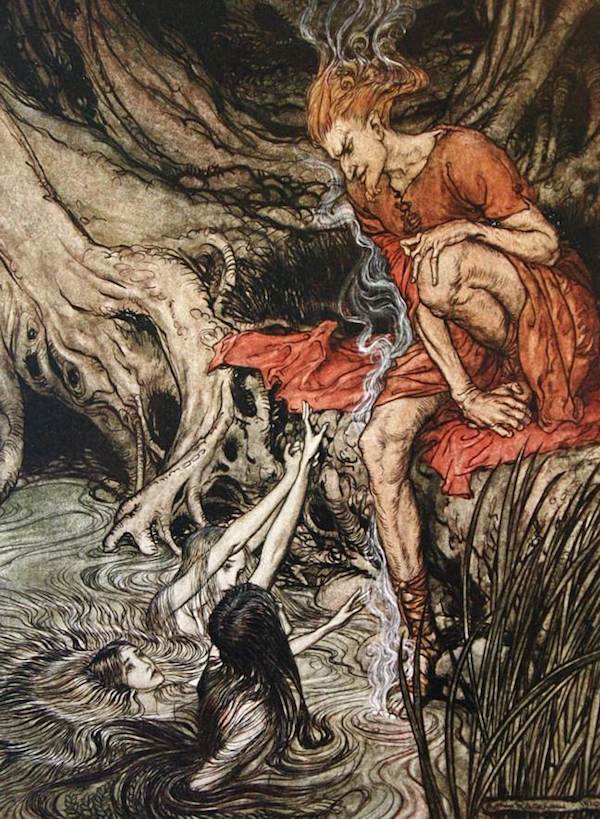 Loki in a drawing by Arthur Rackham (1910), based on Wagner's opera Das Rheingold
Aesir
,
evil deities
,
Fairy Tail characters
,
fire
,
Fire Emblem characters
,
gods
,
isograms
,
Keeper of the Lost Cities characters
,
Marvel characters
,
Megami Tensei characters
,
Norse deities
,
punishment
,
Robert A. Heinlein characters
,
Saint Seiya characters
,
Sims 2 characters
,
Sims 3 characters
,
Supernatural characters
,
tricksters
,
uncertain etymology