Anglicized form of Old Norse
Óðinn
, which was derived from
óðr
meaning
"inspiration, rage, frenzy"
. It ultimately developed from Proto-Germanic *
Wōdanaz
. The name appears as
Woden
in Anglo-Saxon sources (for example, as the founder of several royal lineages in the
Anglo-Saxon Chronicle
) and in forms such as
Wuotan
,
Wotan
or
Wodan
in continental Europe, though he is best known from Norse sources.In Norse
mythology
Odin is the highest of the gods, presiding over war, wisdom and death. He is the husband of
Frigg
and resides in Valhalla, where warriors go after they are slain. He is usually depicted as a one-eyed older man, carrying two ravens on his shoulders who inform him of all the events of the world. At the time of Ragnarök, the final battle, it is told that he will be killed fighting the great wolf
Fenrir
.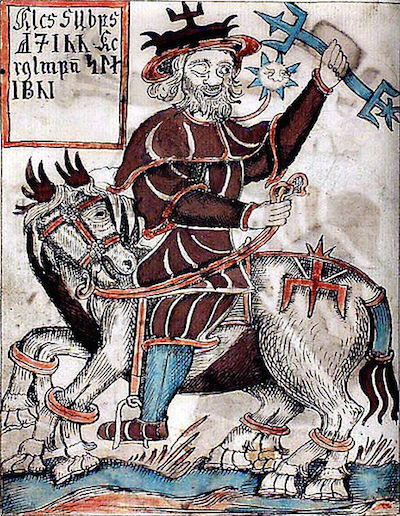 Depiction of Odin from an 18th-century Icelandic manuscript
Aesir
,
Alan Wake characters
,
anglicizations
,
death deities
,
Disney characters
,
emotions
,
feelings
,
Final Fantasy characters
,
Fire Emblem characters
,
gods
,
High School DxD characters
,
isograms
,
Marvel characters
,
Megami Tensei characters
,
modern English
,
mythology
,
Nintendo characters
,
Phantasy Star characters
,
Robert A. Heinlein characters
,
Saint Seiya characters
,
supreme gods
,
war deities
,
What Remains of Edith Finch characters
,
wisdom