From the Norman French form of the Welsh name
Gwenhwyfar
meaning
"white phantom"
, ultimately from the old Celtic roots *
windos
meaning "fair, white, blessed" (modern Welsh
gwen
) and *
sēbros
meaning "phantom, magical being"
[1]
. In Arthurian legend she was the beautiful wife of King
Arthur
. According to the 12th-century chronicler Geoffrey of Monmouth, she was seduced by
Mordred
before the battle of Camlann, which led to the deaths of both Mordred and Arthur. According to the 12th-century French poet Chrétien de Troyes, she engaged in an adulterous affair with Sir
Lancelot
.The Cornish form of this name,
Jennifer
, has become popular in the English-speaking world.
Other Languages & Cultures
Jenifer(

Cornish

) Jennifer, Jenny(

Dutch

) Jennifer, Gwenevere, Jen, Jena, Jenae, Jenelle, Jenessa, Jeni, Jenifer, Jenn, Jenna, Jenni, Jennie, Jenny(

English

) Gaynor(

English (British)

) Jenny(

Finnish

) Guenièvre(

French

) Jennifer, Jenny(

German

) Dzsenifer(

Hungarian

) Jenný(

Icelandic

) Ginevra(

Italian

) Jenny(

Norwegian

) Jenifer, Jennifer, Jenny(

Spanish

) Yenifer(

Spanish (Latin American)

) Jennifer, Jennie, Jenny(

Swedish

) Gaenor, Gaynor(

Welsh

) Gwenhwyfar(

Welsh Mythology

)
People think this name is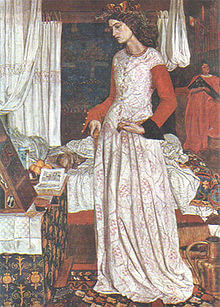 Queen Guinevere by William Morris (1858)
Matasović, Ranko. Etymological Dictionary of Proto-Celtic. Brill, 2009, page 325.