From
Mélanie
, the French form of the Latin name
Melania
, derived from Greek
μέλαινα (melaina)
meaning
"black, dark"
. This was the name of a Roman
saint
who gave all her wealth to charity in the 5th century. Her grandmother was also a saint with the same name.The name was common in France during the Middle Ages, and was introduced from there to England, though it eventually became rare. Interest in it was revived by the character Melanie Wilkes from the novel
Gone with the Wind
(1936) and the subsequent movie adaptation (1939).
People think this name is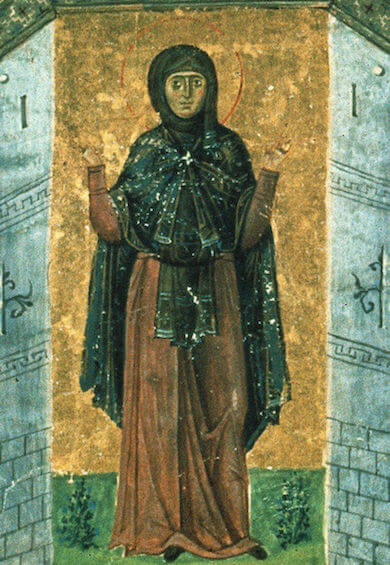 Saint Melania the Younger from a 10th-century miniature
Atelier characters
,
black
,
Caillou characters
,
children of Thomas Arthur Green
,
Clarence characters
,
colors
,
dark
,
Desperate Housewives characters
,
Dharma and Greg characters
,
ends in -ie
,
Fringe characters
,
Germany in the Eurovision Song Contest
,
Gone with the Wind characters
,
literature
,
medieval
,
pop music
,
Queer as Folk US characters
,
rhythmic gymnasts
,
RWBY characters
,
saints
,
Saturday Night Live cast
,
Spice Girls
,
The Golden Girls characters
,
top 10 in Austria
,
top 10 in France
,
top 10 in Germany
,
top 10 in New Zealand
,
top 10 in Quebec
,
Two and a Half Men characters
,
Weird Al Yankovic
,
Will and Grace characters