Derived from Latin
mirandus
meaning
"admirable, wonderful"
. The name was created by
Shakespeare
for the heroine in his play
The Tempest
(1611), about a father and daughter stranded on an island. It did not become a common English given name until the 20th century. This is also the name of one of the moons of Uranus, named after the Shakespearean character.
People think this name is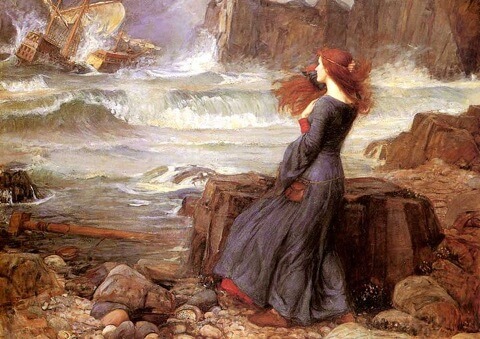 Miranda in an image by John William Waterhouse (1916), based on Shakespeare's play The Tempest
American Horror Story characters
,
Animal Crossing characters
,
Aphra Behn characters
,
artists
,
As Told by Ginger characters
,
authors
,
country music singers
,
D.Gray-man characters
,
daughters
,
directors
,
Disney characters
,
Fire Emblem characters
,
Fleetwood Mac songs
,
Frasier characters
,
Fringe characters
,
Grandia characters
,
How to Train Your Dragon characters
,
invented
,
La locandiera The Mistress of the Inn characters
,
Little Witch Academia characters
,
Macross characters
,
Married with Children characters
,
Megami Tensei characters
,
models
,
moons
,
moons of Uranus
,
Pandora Hearts characters
,
Quantico characters
,
Shakespearean characters
,
song titles
,
space
,
Star Trek characters
,
The Flight Attendant characters
,
The Great British Bake Off contestants
,
The IT Crowd characters
,
TV show titles
,
Vampire Diaries characters
,
WITCH characters
,
X-Men
,
YouTubers