English form of the Greek name
Τιμόθεος (Timotheos)
meaning
"honouring God"
, derived from
τιμάω (timao)
meaning "to honour" and
θεός (theos)
meaning "god".
Saint
Timothy was a companion of
Paul
on his missionary journeys and was the recipient of two of Paul's epistles that appear in the
New Testament
. He was of both Jewish and Greek ancestry. According to tradition, he was martyred at Ephesus after protesting the worship of
Artemis
. As an English name,
Timothy
was not used until after the
Protestant Reformation
.
People think this name is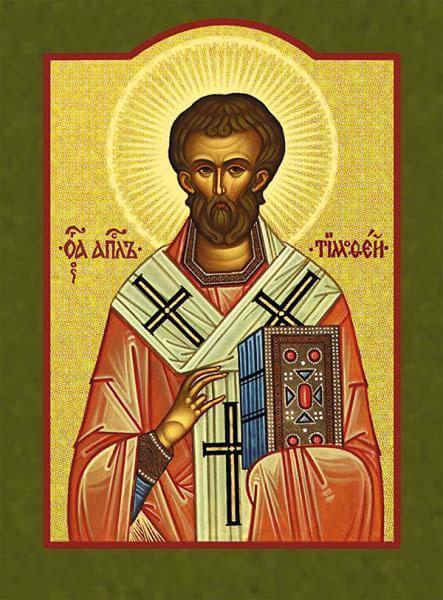 Icon depicting Saint Timothy
Ace Attorney characters
,
American Horror Story characters
,
Animal Crossing characters
,
Aphra Behn characters
,
books of the Bible
,
David Mitchell characters
,
DC Comics characters
,
Desperate Housewives characters
,
Dharma and Greg characters
,
Dishonored characters
,
Disney characters
,
Downton Abbey characters
,
EGOT winners
,
Gilligan's Island characters
,
God
,
honour
,
human Sesame Street characters
,
Hunters characters
,
Kennedy family
,
Kim Possible characters
,
Lucius characters
,
mixed martial artists
,
NCIS characters
,
never out of the US top 1000
,
Philip K. Dick characters
,
Simpsons characters
,
song titles
,
teen idols
,
The Beatles characters
,
The Gilded Age characters
,
theophoric names
,
Thomas and Friends characters
,
Thomas Hardy characters
,
Timothy Goes to School characters
,
top 10 in the Isle of Man
,
Vashti Bunyan songs
,
Virginia Woolf characters
,
Will and Grace characters
,
Xeno characters
,
YouTubers