From the Roman
cognomen
Valentinus
, which was itself a derivative of the cognomen
Valens
meaning
"strong, vigorous, healthy"
in Latin.
Saint
Valentine was a 3rd-century martyr. His feast day was the same as the Roman fertility festival of Lupercalia, which resulted in the association between Valentine's day and love.As an English name, it has been used occasionally since the 12th century. It is the name of a central character in Shakespeare's play
The Two Gentlemen of Verona
(1594).
People think this name is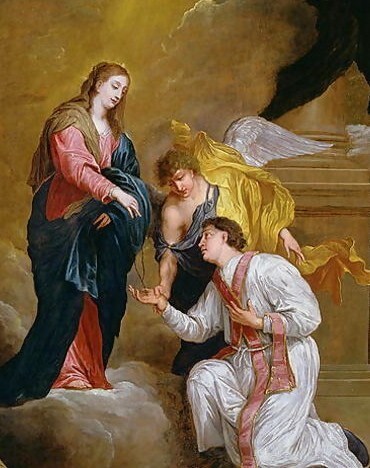 17th-century depiction of Saint Valentine by David Teniers
Bernie Taupin songs
,
currently out of the US top 1000
,
Deadly Premonition characters
,
English nouns
,
ghosts
,
health
,
holidays
,
Liz Phair songs
,
love
,
martyrs
,
Orthodox saints
,
Poldark characters
,
popes
,
Robert A. Heinlein characters
,
Saint Seiya characters
,
saints
,
scientists
,
Shadowhunters characters
,
Shakespearean characters
,
skiffle
,
strength
,
Tennessee Williams characters
,
The Four Hundred members
,
time periods
,
TV show titles
,
word names
,
YouTubers