Usage
Arabic, Persian, Turkish, Urdu, Pashto, Indonesian, Malay, Avar, Kazakh, Uzbek, Tajik, Dhivehi, Albanian, Bosnian
Note
In Turkish this name is written with a dotted İ. It appears as ALİ in uppercase and ali in lowercase.
Means
"lofty, sublime"
in Arabic. Ali ibn Abi Talib was a cousin and son-in-law of the Prophet
Muhammad
and the fourth caliph to rule the Muslim world. His followers were the original Shia Muslims, who regard him as the first rightful caliph.This name is borne by the hero in
Ali Baba and the Forty Thieves
, the tale of a man who finds the treasure trove of a band of thieves. Another famous bearer was the boxer Muhammad Ali (1942-2016), who changed his name from Cassius Clay upon his conversion to Islam.
People think this name is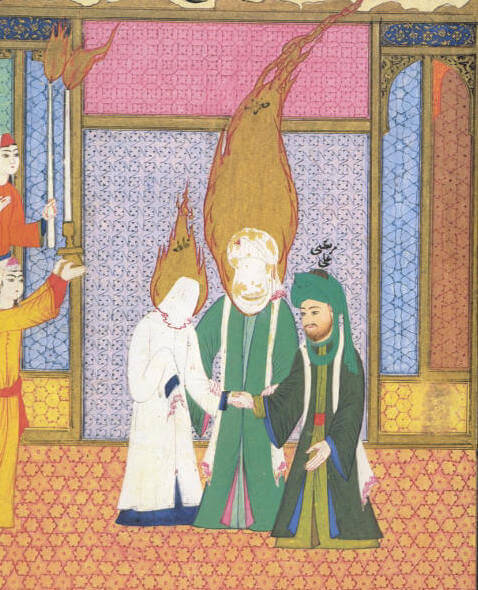 16th-century depiction of Ali (on the right) receiving Fatima from her father Muhammad
99 names of Allah
,
boxers
,
Dune characters
,
Euphoria characters
,
film titles
,
footballers
,
greatness
,
isograms
,
Jordanian royal family
,
Miraculous Ladybug characters
,
Moroccan sultans
,
movies
,
Ni no Kuni characters
,
Tamora Pierce characters
,
The Great British Bake Off contestants
,
The West Wing characters
,
top 10 in Afghanistan
,
top 10 in Bosnia-Herzegovina
,
top 10 in Egypt
,
top 10 in Iran
,
top 10 in Lebanon
,
top 10 in Northern Cyprus
,
top 10 in Pakistan
,
top 10 in the Maldives
,
top 10 in the World
,
top 10 in Turkey
,
Tori Amos lyrics
,
Turkiye in the Eurovision Song Contest
,
YouTubers