From the Hebrew name
בִּנְיָמִין (Binyamin)
meaning
"son of the south"
or
"son of the right hand"
, from the roots
בֵּן (ben)
meaning "son" and
יָמִין (yamin)
meaning "right hand, south". Benjamin in the
Old Testament
was the twelfth and youngest son of
Jacob
and the founder of one of the southern tribes of the Hebrews. He was originally named
בֶּן־אוֹנִי (Ben-'oni)
meaning "son of my sorrow" by his mother
Rachel
, who died shortly after childbirth, but it was later changed by his father (see
Genesis 35:18
).As an English name,
Benjamin
came into general use after the
Protestant Reformation
. A famous bearer was Benjamin Franklin (1706-1790), an American statesman, inventor, scientist and philosopher.
People think this name is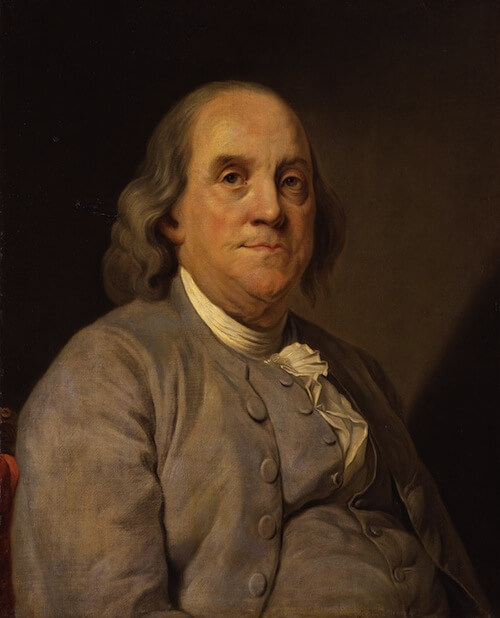 Portrait of Benjamin Franklin (1778)
2020's Grand Slam tennis players
,
Ace Attorney characters
,
American founding fathers
,
American Horror Story characters
,
American presidents
,
Animal Crossing characters
,
astronauts
,
Baccano characters
,
bass guitarists
,
Ben 10 characters
,
body parts
,
British royal family
,
cardinal points
,
celebrity babies
,
Charles Dickens characters
,
child actors
,
children of Thomas Arthur Green
,
Code Geass characters
,
Czechia in the Eurovision Song Contest
,
D. H. Lawrence characters
,
de Havilland family
,
Death Stranding characters
,
Descendants characters
,
Desperate Housewives characters
,
Dishonored characters
,
Dr. Seuss characters
,
Dragon Quest characters
,
Eurovision 2020
,
Eurovision 2022
,
family
,
history
,
House of Cards US characters
,
inventors
,
Israeli prime ministers
,
Marvel characters
,
NASCAR
,
Never Have I Ever characters
,
never out of the US top 1000
,
Orthodox saints
,
paintings
,
Parks and Recreation characters
,
Queer as Folk US characters
,
saints
,
scientists
,
Sims 3 characters
,
sons of Jacob
,
Star Trek characters
,
Sufjan Stevens songs
,
Supernatural characters
,
Sweden in the Eurovision Song Contest
,
Taboo characters
,
Tennessee Williams characters
,
The Flight Attendant characters
,
The Four Hundred members
,
The Marvelous Mrs. Maisel characters
,
The Roman Mysteries characters
,
top 10 in Australia
,
top 10 in New Zealand
,
top 10 in the UK
,
top 10 in the US
,
Tori Amos lyrics
,
Tori Amos songs
,
twelve tribes of Israel
,
UK prime ministers
,
William Faulkner characters
,
world leaders
,
writers
,
Xeno characters
,
YouTubers