Anglicized form of the Irish name
Brighid
, Old Irish
Brigit
, from old Celtic *
Brigantī
meaning
"the exalted one"
. In Irish
mythology
this was the name of the goddess of fire, poetry and wisdom, the daughter of the god
Dagda
. In the 5th century it was borne by
Saint
Brigid, the founder of a monastery at Kildare and a patron saint of Ireland. Because of the saint, the name was considered sacred in Ireland, and it did not come into general use there until the 17th century. In the form
Birgitta
this name has been common in Scandinavia, made popular by the 14th-century Saint Birgitta of Sweden, patron saint of Europe.
Other Languages & Cultures
Brigita(

Croatian

) Brigita, Gita(

Czech

) Birgit, Birgitta, Birgitte, Berit, Birte, Birthe, Brita, Britt, Britta, Gitte(

Danish

) Brigitta, Brigitte(

Dutch

) Birgit, Piret(

Estonian

) Birita(

Faroese

) Birgitta, Piritta, Brita, Pirjo, Pirkko, Priita, Riitta(

Finnish

) Brigitte(

French

) Birgit, Brigitta, Brigitte, Gitta(

German

) Brigitta(

Hungarian

) Birgitta, Birta(

Icelandic

) Brighid, Brigid, Brigit(

Irish Mythology

) Brigida(

Italian

) Brigita, Gita(

Latvian

) Breeshey(

Manx

) Birgit, Birgitta, Birgitte, Berit, Brit, Brita, Britt, Britta(

Norwegian

) Brigit(

Old Irish

) Brygida(

Polish

) Brígida(

Portuguese

) Brigita(

Slovak

) Brigita(

Slovene

) Brígida(

Spanish

) Birgit, Birgitta, Berit, Brita, Britt, Britta, Gittan(

Swedish

) Ffraid(

Welsh

)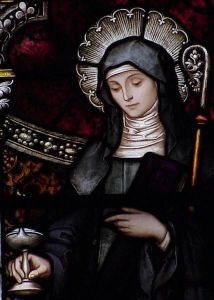 Depiction of Saint Brigid of Kildare
People think this name is
classic
formal
upper class
natural
wholesome
strong
refined
strange
serious
nerdy
American Horror Story characters
,
anglicizations
,
Catholic Church
,
Catholic saints
,
daughters
,
Death Stranding characters
,
Derry Girls characters
,
Disney characters
,
film titles
,
fire
,
Firefly characters
,
Frasier characters
,
goddesses
,
Hanasakeru Seishounen characters
,
health
,
His Dark Materials characters
,
House of Cards US characters
,
intelligence
,
Jane Austen characters
,
literature
,
Magical Girls
,
Most Popular Girls in School characters
,
movies
,
mythology
,
never out of the US top 1000
,
poets
,
saints
,
sky
,
sky deities
,
smith deities
,
song titles
,
The Gilded Age characters
,
The Golden Girls characters
,
The Man in the High Castle characters
,
Trinity Blood characters
,
Two and a Half Men characters
,
Violet Evergarden characters
,
water
,
weather
,
Will and Grace characters
,
wisdom