From the Hebrew name
דְּבוֹרָה (Devorah)
meaning
"bee"
. In the
Old Testament
Book of Judges, Deborah is a heroine and prophetess who leads the Israelites when they are threatened by the Canaanites. She forms an army under the command of
Barak
, and together they destroy the army of the Canaanite commander Sisera. Also in the Old Testament, this is the name of the nurse of Rebecca.Long a common Jewish name,
Deborah
was first used by English Christians after the
Protestant Reformation
, and it was popular among the
Puritans
.
People think this name is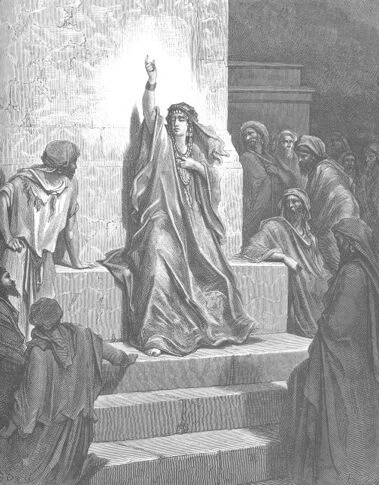 Deborah (1866) by Gustave Doré
1950s
,
animals
,
biblical judges
,
biblical women
,
bugs
,
composers
,
de Havilland family
,
ends in -ah
,
folk heroes
,
Grease
,
insects
,
isograms
,
Little Bill characters
,
love island US
,
nature
,
never out of the US top 1000
,
opera singers
,
Orthodox saints
,
playwrights
,
pop music
,
pop singers
,
prophets
,
Queer as Folk US characters
,
R'n'B singers
,
Resident Evil characters
,
Rock and Riot characters
,
rock musicians
,
rock singers
,
socialites
,
Stephen King characters
,
Suikoden characters
,
The Great British Bake Off contestants
,
The Sopranos characters
,
The West Wing characters
,
top 10 in the US
,
Virtua Tennis opponent characters
,
Westworld characters