Means
"ascension"
in Hebrew. In the Books of Samuel in the
Old Testament
he is a high priest of the Israelites. He took the young
Samuel
into his service and gave him guidance when God spoke to him. Because of the misdeeds of his sons, Eli and his descendants were cursed to die before reaching old age.
Eli
has been used as an English Christian given name since the
Protestant Reformation
. A notable bearer was the American inventor of the cotton gin Eli Whitney (1765-1825).
People think this name is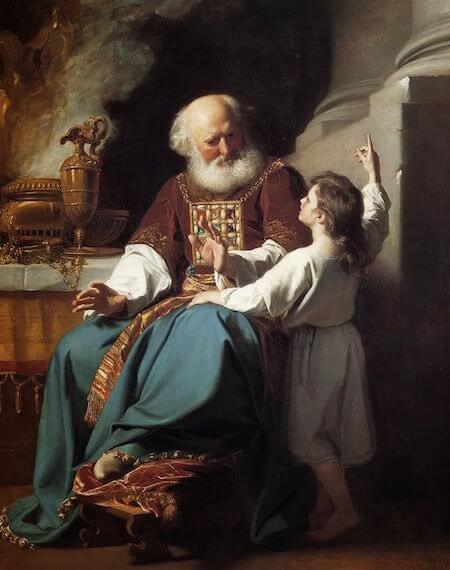 Depiction of Eli and Samuel by John Singleton Copley (1780)
American Horror Story characters
,
Dishonored characters
,
drag racers
,
inventors
,
isograms
,
Italian Westerns
,
mascots
,
never out of the US top 1000
,
Ni no Kuni characters
,
Octavia E. Butler characters
,
pop music
,
Rick and Morty characters
,
teen idols
,
The Flight Attendant characters
,
The Karate Kid and Cobra Kai characters
,
The Sopranos characters
,
The West Wing characters
,
trendy
,
Why Women Kill characters
,
Will and Grace characters