From the Hebrew name
חַוָּה (Chawwah)
, which was derived from the Hebrew word
חָוָה (chawah)
meaning
"to breathe"
or the related word
חָיָה (chayah)
meaning
"to live"
. According to the
Old Testament
Book of Genesis, Eve and
Adam
were the first humans. God created her from one of Adam's ribs to be his companion. At the urging of a serpent she ate the forbidden fruit and shared some with Adam, causing their expulsion from the Garden of
Eden
.Despite this potentially negative association, the name was occasionally used by Christians during the Middle Ages. In the English-speaking world both
Eve
and the Latin form
Eva
were revived in the 19th century, with the latter being more common.
People think this name is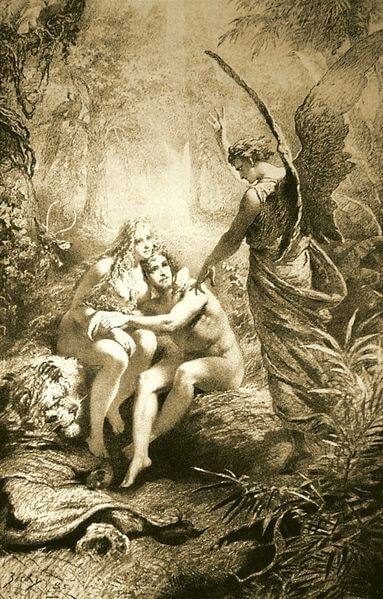 Depiction of Adam and Eve by Mihály Zichy (1861)
Academy Awards Best Pictures
,
air
,
astrophysicists
,
Baccano characters
,
Bandori characters
,
biblical women
,
child actors
,
cigarette brands
,
Disney characters
,
DrakenNieR characters
,
English nouns
,
Fairy Tail characters
,
Family Affair characters
,
film titles
,
first humans
,
Flack characters
,
Frasier characters
,
Grease
,
Idolmaster characters
,
Killing Eve characters
,
life
,
literature
,
love island UK
,
medieval
,
Mother characters
,
mothers
,
movies
,
Never Have I Ever characters
,
paintings
,
palindromes
,
rappers
,
Siouxsie and the Banshees songs
,
song titles
,
Star Trek characters
,
Stephen King characters
,
storms
,
television
,
The Flight Attendant characters
,
The Nanny characters
,
times of day
,
Tori Amos lyrics
,
TV show titles
,
United Kingdom in the Eurovision Song Contest
,
William Faulkner characters
,
word names
,
wrestlers
,
WWE Divas Champions
,
YouTubers