From the Hebrew name
יְהוֹנָתָן (Yehonatan)
, contracted to
יוֹנָתָן (Yonatan)
, meaning
"Yahweh has given"
, derived from the roots
יְהוֹ (yeho)
referring to the Hebrew God and
נָתַן (natan)
meaning "to give". According to the
Old Testament
, Jonathan was the eldest son of
Saul
. His relationship with his father was strained due to his close friendship with his father's rival
David
. Along with Saul he was killed in battle with the Philistines.As an English name,
Jonathan
did not become common until after the
Protestant Reformation
. A famous bearer was the Anglo-Irish satirist Jonathan Swift (1667-1745), who wrote
Gulliver's Travels
and other works.
People think this name is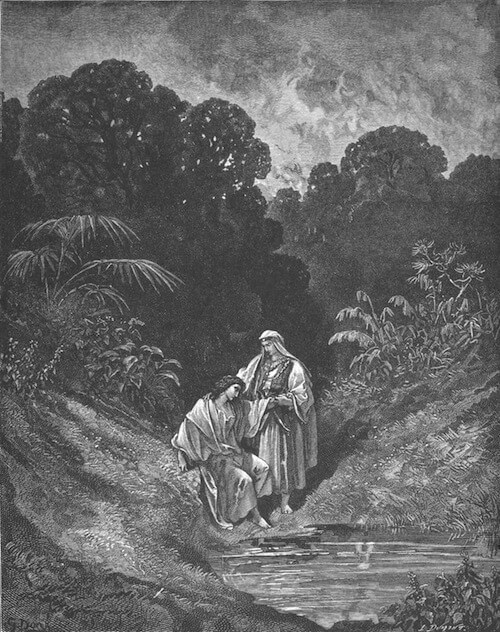 Jonathan (seated) and David by Gustave Doré (1866)
27 Club members
,
Alien characters
,
Anne Rice characters
,
authors
,
ballerinos
,
Barry Lyndon
,
Bewitched characters
,
Castlevania characters
,
Catholic saints
,
child actors
,
Cowboy Bebop characters
,
DC Comics characters
,
Desperate Housewives characters
,
directors
,
Discworld characters
,
Disney characters
,
divine gift
,
Dracula characters
,
Dream SMP members
,
drummers
,
EGOT winners
,
Family Affair characters
,
Formula One drivers
,
Frasier characters
,
Fringe characters
,
gift
,
Gilligan's Island characters
,
gospel musicians
,
Israel in the Eurovision Song Contest
,
Jojo's Bizarre Adventure characters
,
Kaleido Star characters
,
keyboardists
,
Kim Possible characters
,
Korn members
,
literature
,
Marvel characters
,
mascots
,
Megami Tensei characters
,
Michael Cunningham characters
,
Most Popular Girls in School characters
,
never out of the US top 1000
,
Once Upon a Time characters
,
princes
,
Rugrats characters
,
Shadowhunters characters
,
skiffle
,
song titles
,
Star Trek characters
,
Stephen King characters
,
Stranger Things characters
,
Suikoden characters
,
Tamora Pierce characters
,
television
,
Tennessee Williams characters
,
The Golden Girls characters
,
The Great British Bake Off contestants
,
The Roman Mysteries characters
,
The West Wing characters
,
theophoric names
,
TV show titles
,
victims
,
YouTubers