From the Hebrew name
דָּוִד (Dawid)
, which was derived from Hebrew
דּוֹד (dod)
meaning
"beloved"
or
"uncle"
. David was the second and greatest of the kings of Israel, ruling in the 10th century BC. Several stories about him are told in the
Old Testament
, including his defeat of
Goliath
, a giant Philistine. According to the
New Testament
,
Jesus
was descended from him.This name has been used in Britain since the Middle Ages. It has been especially popular in Wales, where it is used in honour of the 5th-century patron
saint
of Wales (also called
Dewi
), as well as in Scotland, where it was borne by two kings. Over the last century it has been one of the English-speaking world's most consistently popular names, never leaving the top 30 names for boys in the United States, and reaching the top rank in England and Wales during the 1950s and 60s. In Spain it was the most popular name for boys during the 1970s and 80s.Famous bearers include empiricist philosopher David Hume (1711-1776), explorer David Livingstone (1813-1873), musician David Bowie (1947-2016), and soccer player David Beckham (1975-). This is also the name of the hero of Charles Dickens' semi-autobiographical novel
David Copperfield
(1850).
People think this name is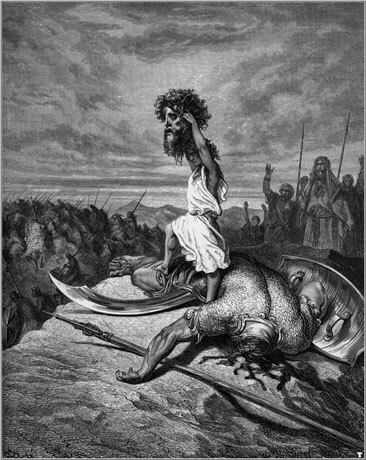 David and Goliath by Gustave Doré (1866)
1950s
,
1960s
,
1970s
,
2020's Grand Slam tennis players
,
A Good Girl's Guide to Murder characters
,
Alien characters
,
American Horror Story characters
,
American presidents
,
Anne of Green Gables characters
,
Anne Rice characters
,
Arthur characters
,
artists
,
As Told by Ginger characters
,
authors
,
Barry Lyndon
,
baseball players
,
Beavis and Butt-Head characters
,
beloved
,
Black Clover characters
,
Bloomsbury Group members
,
British royal family
,
Charles Dickens characters
,
child actors
,
Chocolatier characters
,
City Hunter characters
,
Code Geass characters
,
composers
,
country music singers
,
Cowboy Bebop characters
,
Criminal Minds characters
,
David Mitchell characters
,
Death Note characters
,
Denmark in the Eurovision Song Contest
,
Derry Girls characters
,
Desperate Housewives characters
,
Dharma and Greg characters
,
directors
,
Disney characters
,
Divergent characters
,
Doctor Who actors
,
Dr. Seuss characters
,
Duggar family
,
Ernest Hemingway characters
,
Euphoria characters
,
Eurovision 2023
,
explorers
,
family
,
Family Affair characters
,
figure skaters
,
film titles
,
Fleetwood Mac members
,
footballers
,
Frasier characters
,
Fringe characters
,
game designers
,
Germany in the Eurovision Song Contest
,
Grand Theft Auto V characters
,
graphic designers
,
Grishaverse characters
,
guitarists
,
Hilda characters
,
House of Cards US characters
,
human Sesame Street characters
,
inventors
,
Ireland in the Eurovision Song Contest
,
Israel in the Eurovision Song Contest
,
Israeli prime ministers
,
Joni Mitchell songs
,
Keeper of the Lost Cities characters
,
Kennedy family
,
Killing Eve characters
,
kings
,
knights of the Burgundian Golden Fleece
,
Life is Strange characters
,
literature
,
Louisa May Alcott characters
,
love
,
magicians
,
Mahoutsukai no Yome characters
,
Malta in the Eurovision Song Contest
,
Man From UNCLE characters
,
Marvel characters
,
murderers
,
NASCAR
,
never out of the US top 100
,
never out of the US top 1000
,
Once Upon a Time characters
,
Orthodox saints
,
painters
,
patron saints
,
Philip K. Dick characters
,
philosophers
,
photographers
,
Pink Floyd songs
,
poets
,
Poland in the Eurovision Song Contest
,
printmakers
,
Queer as Folk US characters
,
QVC hosts
,
R.E.M. lyrics
,
Regular Show characters
,
Resident Evil characters
,
retired Atlantic hurricane names
,
Rick and Morty characters
,
Robert A. Heinlein characters
,
rock singers
,
Romania in the Eurovision Song Contest
,
Roseanne characters
,
Rosenkowitz sextuplets
,
saints
,
scientists
,
Seinfeld characters
,
Six Feet Under characters
,
smooth jazz
,
Spain in the Eurovision Song Contest
,
Star Trek characters
,
Star Wars actors
,
Stephen King characters
,
storms
,
Streathamites
,
Sufjan Stevens songs
,
surfers
,
teen idols
,
television
,
Tennessee Williams characters
,
The Golden Girls characters
,
The Great British Bake Off contestants
,
The Last of Us characters
,
The Man Who Came to Dinner characters
,
The Marvelous Mrs. Maisel characters
,
The Nanny characters
,
The Office US characters
,
The Sopranos characters
,
The Walking Dead game characters
,
The West Wing characters
,
Thomas Hardy characters
,
top 10 in Austria
,
top 10 in Bolivia
,
top 10 in Bosnia-Herzegovina
,
top 10 in Croatia
,
top 10 in Ecuador
,
top 10 in Ireland
,
top 10 in Israel
,
top 10 in Jamaica
,
top 10 in Peru
,
top 10 in Romania
,
top 10 in Slovenia
,
top 10 in South Africa
,
top 10 in Spain
,
top 10 in Switzerland
,
top 10 in the Czech Republic
,
top 10 in the Isle of Man
,
top 10 in the US
,
top 10 in the World
,
top 10 in Ukraine
,
top 10 in Venezuela
,
top 100 Portugal
,
Tori Amos lyrics
,
Tori Amos songs
,
Total Drama characters
,
True Blood characters
,
TV presenters
,
UK prime ministers
,
uncertain etymology
,
United Kingdom in the Eurovision Song Contest
,
vampires
,
Victor Hugo characters
,
Virtua Tennis opponent characters
,
voice actors
,
Wii Sports opponent Miis
,
Wii Sports series opponent Miis
,
William Faulkner characters
,
world leaders
,
X-Men
,
YouTubers