From the Greek name
Αἰκατερίνη (Aikaterine)
. The etymology is debated: it could derive from an earlier Greek name
Ἑκατερινη (Hekaterine)
, itself from
ἑκάτερος (hekateros)
meaning
"each of the two"
; it could derive from the name of the goddess
Hecate
; it could be related to Greek
αἰκία (aikia)
meaning
"torture"
; or it could be from a Coptic name meaning
"my consecration of your name"
. In the early Christian era it became associated with Greek
καθαρός (katharos)
meaning
"pure"
, and the Latin spelling was changed from
Katerina
to
Katharina
to reflect this.The name was borne by a semi-legendary 4th-century
saint
and martyr from Alexandria who was tortured on a spiked wheel. The saint was initially venerated in Syria, and returning crusaders introduced the name to Western Europe. It has been common in England since the 12th century in many different spellings, with
Katherine
and
Catherine
becoming standard in the later Middle Ages. To this day both spellings are regularly used in the English-speaking world. In the United States the spelling
Katherine
has been more popular since 1973.Famous bearers of the name include Catherine of Siena, a 14th-century mystic, and Catherine de' Medici, a 16th-century French queen. It was also borne by three of Henry VIII's wives, including Katherine of Aragon, and by two empresses of Russia, including Catherine the Great.
Variants
Catharine, Catherine, Cathryn, Katharyn, Katheryn, Kathryn, Catherin, Catherina, Katharine, Katherina, Katheryne, Katrina
Diminutives
Cat, Cathy, Kat, Kate, Katey, Kathi, Kathie, Kathy, Katie, Katy, Kay, Kaye, Kit, Kitty, Cate, Kae, Kaety, Katee
Other Languages & Cultures
Katerina(

Albanian

) Aikaterine(

Ancient Greek

) Katalin, Kattalin(

Basque

) Katsiaryna, Karyna(

Belarusian

) Katarin, Katell(

Breton

) Ekaterina, Katina, Katerina, Katia, Katya(

Bulgarian

) Caterina(

Catalan

) Catalina(

Corsican

) Katarina, Kata, Kate, Katica, Katja, Tina(

Croatian

) Kateřina, Karin, Katka(

Czech

) Cathrine, Catrine, Katarina, Kathrine, Katrine, Caja, Carina, Ina, Kaja, Karen, Karin, Karina, Katharina, Katja, Trine(

Danish

) Catharina, Katrien, Katrijn, Cato, Ina, Karin, Katinka, Katja, Rina, Rini, Riny, Tina, Tineke, Trijntje(

Dutch

) Kadri, Katariina, Katrin, Kadi, Kai, Kaia, Kaidi, Kaisa, Kaja, Karin, Kati, Riin, Riina, Triin, Triinu(

Estonian

) Katariina, Katriina, Iina, Kaarina, Kaija, Kaisa, Karin, Kata, Kati, Katja, Katri, Riina(

Finnish

) Katelijn, Katelijne(

Flemish

) Catherine, Carine, Karine, Katia(

French

) Nienke, Nine, Nynke(

Frisian

) Catarina(

Galician

) Ekaterine, Eka(

Georgian

) Katharina, Katherina, Katrin, Carina, Cathrin, Catrin, Ina, Karen, Karin, Karina, Katarina, Katarine, Katharine, Käthe, Kathrin, Katinka, Katja(

German

) Aikaterini, Ekaterini, Katerina, Katina, Kaiti, Keti(

Greek

) Kakalina, Kalena(

Hawaiian

) Kateri(

History

) Katalin, Kata, Katalinka, Kati, Katica, Katinka, Kató, Kitti(

Hungarian

) Katrín, Karen(

Icelandic

) Caitlín, Caitlin, Caitríona, Cathleen, Catriona, Kathleen, Katriona, Cáit, Caitria, Ríona, Tríona(

Irish

) Caterina, Catia, Katia, Katiuscia, Rina(

Italian

) Katerina(

Late Roman

) Katrīna, Ina, Karīna, Karina(

Latvian

) Kotryna, Katrė(

Lithuanian

) Ekaterina, Katerina, Katina(

Macedonian

) Cateline(

Medieval French

) Cathrine, Catrine, Katarina, Kathrine, Katrine, Carina, Ina, Kaia, Kaja, Karen, Kari, Karin, Karina, Karine, Katharina, Katja(

Norwegian

) Catarina(

Occitan

) Katarzyna, Karina, Kasia(

Polish

) Catarina, Cátia(

Portuguese

) Cătălina, Ecaterina, Catina, Catrinel(

Romanian

) Ekaterina, Jekaterina, Yekaterina, Karina, Katenka, Katerina, Katia, Katya, Katyusha(

Russian

) Caderina(

Sardinian

) Catrina, Catriona, Katrina, Katriona(

Scottish

) Caitrìona(

Scottish Gaelic

) Katarina(

Serbian

) Katarína, Katka(

Slovak

) Katarina, Ina, Inja, Kaja, Karin, Katica, Katja(

Slovene

) Katarina(

Sorbian

) Catalina, Karina, Lina(

Spanish

) Cathrine, Catrine, Katarina, Katrin, Cajsa, Carin, Carina, Catharina, Ina, Kaja, Kajsa, Karin, Karina, Katharina, Katja(

Swedish

) Kateryna, Karyna, Katia, Katya(

Ukrainian

) Catrin, Cadi(

Welsh

)
People think this name is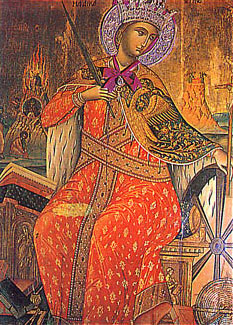 Depiction of Saint Katherine of Alexandria
Ace Attorney characters
,
archers
,
black history
,
blues musicians
,
Chocolatier characters
,
civil rights
,
costumiers
,
Desperate Housewives characters
,
Dharma and Greg characters
,
empresses
,
ends in -ine
,
Euphoria characters
,
female US presidential candidates
,
Kennedy family
,
Lucius characters
,
Mare of Easttown characters
,
martyrs
,
Marvel characters
,
math
,
Mayflower passengers
,
negative
,
never out of the US top 1000
,
Orthodox saints
,
photographers
,
Power Rangers characters
,
purity
,
queens
,
Resident Evil characters
,
Rick and Morty characters
,
Riverdale characters
,
saints
,
Shakespearean characters
,
Star Trek characters
,
The Four Hundred members
,
The Golden Girls characters
,
The Midnight Club characters
,
The Missing characters
,
True Detective characters
,
Two and a Half Men characters
,
uncertain etymology
,
Vampire Diaries characters
,
Will and Grace characters
,
women's history
,
writers