From the Germanic name
Mahthilt
meaning
"strength in battle"
, from the elements
maht
"might, strength" and
hilt
"battle".
Saint
Matilda was the wife of the 10th-century German king Henry I the Fowler. The name was common in many branches of European royalty in the Middle Ages. It was brought to England by the
Normans
, being borne by the wife of William the Conqueror himself. Another notable royal by this name was a 12th-century daughter of Henry I of England, known as the Empress Matilda because of her first marriage to the Holy Roman emperor Henry V. She later invaded England, laying the foundations for the reign of her son Henry II.The name was very popular until the 15th century in England, usually in the vernacular form
Maud
. Both forms were revived by the 19th century. This name appears in the popular Australian folk song
Waltzing Matilda
, written in 1895.
People think this name is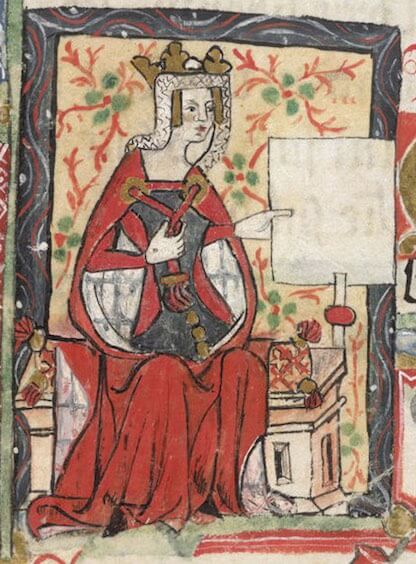 Depiction of the Empress Matilda, daughter of Henry I of England
Angelina Ballerina characters
,
Angry Birds characters
,
Ascendance of a Bookworm characters
,
Australia
,
Charles Dickens characters
,
D. H. Lawrence characters
,
Disney characters
,
Edinburgh Seven
,
ends in -da
,
English princesses
,
film titles
,
Gundam characters
,
Harry Belafonte repertoire
,
I Love Lucy characters
,
Jane Austen characters
,
literature
,
Lou Reed songs
,
Married with Children characters
,
movies
,
Oz characters
,
Pink Floyd songs
,
queens
,
queens of England
,
queens of Scotland
,
Roald Dahl characters
,
saints
,
song titles
,
strength
,
Thomas Hardy characters
,
Tori Amos lyrics
,
war
,
witches