From the Hebrew name
נָתָן (Natan)
meaning
"he gave"
. In the
Old Testament
this is the name of a prophet during the reign of King
David
. He chastised David for his adultery with
Bathsheba
and for the death of
Uriah
the Hittite. Later he championed
Solomon
as David's successor. This was also the name of a son of David and Bathsheba.It has been used as a Christian given name in the English-speaking world since the
Protestant Reformation
. A famous bearer was Nathan Hale (1755-1776), an American spy executed by the British during the American Revolution.
People think this name is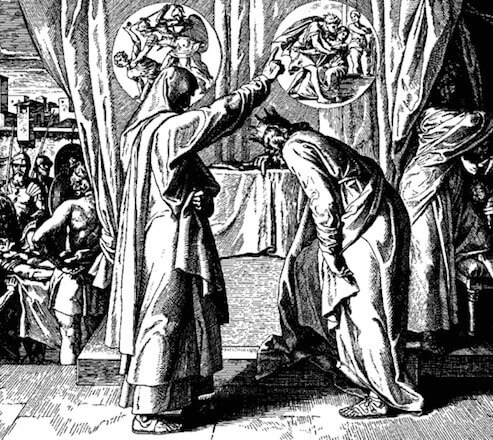 19th-century woodcut depicting the Prophet Nathan rebuking David
Anne Rice characters
,
Austria in the Eurovision Song Contest
,
Bates family
,
Big Little Lies characters
,
Black Clover characters
,
black history
,
Castlevania characters
,
Danny Phantom characters
,
David Mitchell characters
,
Detroit Become Human characters
,
figure skaters
,
folk heroes
,
Genshin Impact characters
,
gift
,
healthcare
,
Heroes NBC characters
,
history
,
House of Cards US characters
,
ice skaters
,
Joni Mitchell songs
,
Kim's Convenience characters
,
Life is Strange characters
,
Mare of Easttown characters
,
Marvel characters
,
mascots
,
mixed martial artists
,
never out of the US top 1000
,
nicknames
,
OMORI characters
,
Orthodox saints
,
Ozark characters
,
Philip K. Dick characters
,
princes
,
prophets
,
Rick and Morty characters
,
smooth jazz
,
South Park characters
,
television
,
The Midnight Club characters
,
Tiger and Bunny characters
,
top 10 in Belgium
,
top 10 in Canada
,
top 10 in France
,
top 10 in Quebec
,
Two and a Half Men characters
,
Westworld characters
,
Will and Grace characters
,
William Faulkner characters
,
X-Men
,
YouTubers