From the Hebrew name
רִבְקָה (Rivqah)
, probably from a Semitic root meaning
"join, tie, snare"
. This is the name of the wife of
Isaac
and the mother of
Esau
and
Jacob
in the
Old Testament
. It came into use as an English Christian name after the
Protestant Reformation
, and it was popular with the
Puritans
in the 17th century. It has been consistently used since then, becoming especially common in the second half of the 20th century.This name is borne by a Jewish woman in Walter Scott's novel
Ivanhoe
(1819), as well as the title character (who is deceased and unseen) in Daphne du Maurier's novel
Rebecca
(1938).
People think this name is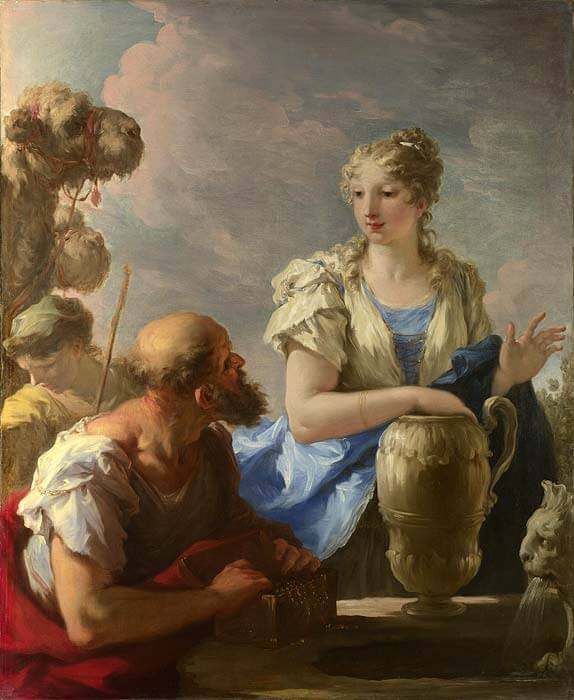 Depiction of the biblical Rebecca by Giovanni Antonio Pellegrini (1713)
1970s
,
1980s
,
2020's Grand Slam tennis players
,
Academy Awards Best Pictures
,
Alien characters
,
American Girl characters
,
Anne Rice characters
,
Bernie Taupin songs
,
Bewitched characters
,
biblical women
,
Black Clover characters
,
Black Lagoon characters
,
Cheers characters
,
child actors
,
children of Thomas Arthur Green
,
Danny Phantom characters
,
Desperate Housewives characters
,
Dune characters
,
Edens Zero characters
,
Estonia in the Eurovision Song Contest
,
film titles
,
Fire Emblem characters
,
Frasier characters
,
Fringe characters
,
Fullmetal Alchemist characters
,
House of Cards US characters
,
Jane Austen characters
,
love island Sweden
,
love island UK
,
Love Live characters
,
Michael Cunningham characters
,
Michael W Smith songs
,
mothers
,
movies
,
Never Have I Ever characters
,
never out of the US top 1000
,
Orthodox saints
,
people executed during the Salem witch trials
,
Peppa Pig characters
,
Quantico characters
,
Resident Evil 0 characters
,
Resident Evil characters
,
Roseanne characters
,
RuPauls Drag Race contestants
,
Seinfeld characters
,
Shadowhunters characters
,
The Golden Girls characters
,
The Great British Bake Off contestants
,
The Haunting characters
,
The IT Crowd characters
,
The West Wing characters
,
top 10 in Northern Ireland
,
top 10 in the UK
,
top 10 in the US
,
Tori Amos lyrics
,
TV presenters
,
Twilight characters
,
uncertain etymology
,
Virginia Woolf characters
,
Virtua Tennis opponent characters
,
Wild Arms characters
,
wives of Brigham Young
,
YouTubers
,
Ys characters