From a
Germanic
name meaning
"ruler of the people"
, derived from the
elements
theud
"people" and
ric
"ruler". It was notably borne by Theodoric the Great, a 6th-century king of the Ostrogoths who eventually became the ruler of Italy. By Theodoric's time the Ostrogoths were partially Romanized and his name was regularly recorded as
Theodoricus
. The Gothic original may have been
Þiudreiks
.
Other Languages & Cultures
Theoderich, Theodoricus, Theudoricus, Theutrich, Þiudreiks(

Ancient Germanic

) Diederik, Tijmen, Dick, Diede, Diederick, Dirk, Ties(

Dutch

) Dederick, Derrick, Dirk(

English

) Tiidrik(

Estonian

) Thierry(

French

) Durk, Tiede(

Frisian

) Diederich, Dietrich, Dierk, Dirk, Thilo, Till, Tillo, Tilo(

German

) Tielo(

Medieval German

)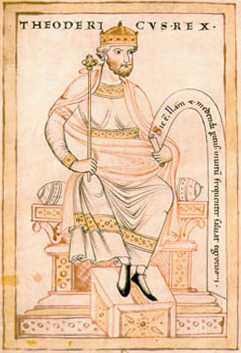 Depiction of Theodoric the Great
People think this name is
classic
mature
formal
upper class
wholesome
strong
refined
strange
complex
serious
nerdy