From the Gothic name *
Þiudareiks
meaning
"ruler of the people"
, derived from the elements
þiuda
"people" and
reiks
"ruler, king". It was notably borne by Theodoric the Great, a 6th-century king of the Ostrogoths who eventually became the ruler of Italy. By Theodoric's time the Ostrogoths were partially Romanized and his name was regularly recorded as
Theodoricus
.
People think this name is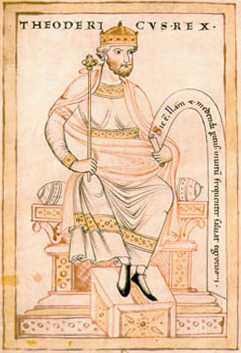 Depiction of Theodoric the Great