Roman name meaning
"victor, conqueror"
in Latin. It was common among early Christians, and was borne by several early
saints
and three popes. It was rare as an English name during the Middle Ages, but it was revived in the 19th century. A famous bearer was the French writer Victor Hugo (1802-1885), who authored
The Hunchback of Notre-Dame
and
Les Misérables
.
People think this name is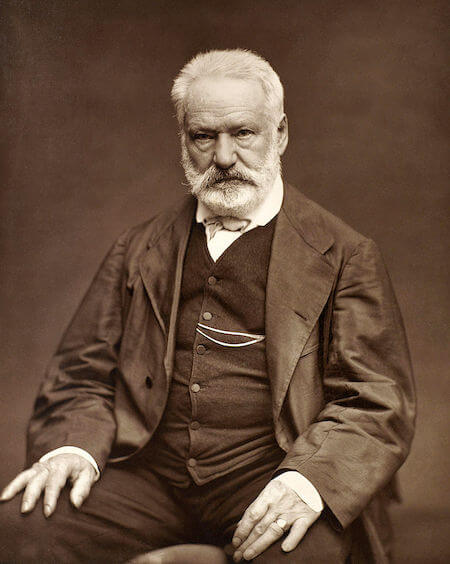 Victor Hugo (1876)
A Song of Ice and Fire characters
,
Ace Attorney characters
,
authors
,
Baccano characters
,
baseball players
,
bass guitarists
,
Castlevania characters
,
child actors
,
Courage The Cowardly Dog characters
,
Crash Bandicoot characters
,
DC Comics characters
,
Desperate Housewives characters
,
Dharma and Greg characters
,
Dionne family
,
directors
,
Discworld characters
,
Disney characters
,
drag racers
,
Dragalia Lost characters
,
Dune characters
,
English nouns
,
Estonia in the Eurovision Song Contest
,
Eurovision 2019
,
Eurovision 2022
,
Eurovision 2023
,
Fire Emblem characters
,
Greece in the Eurovision Song Contest
,
House of Anubis characters
,
Hunters characters
,
Ireland in the Eurovision Song Contest
,
isograms
,
jockeys
,
Killing Eve characters
,
Latin words
,
martyrs
,
mascots
,
Milo Murphy's Law characters
,
Monster High characters
,
NATO phonetic alphabet
,
Never Have I Ever characters
,
never out of the US top 1000
,
OMORI characters
,
Once Upon a Time characters
,
Orthodox saints
,
Oz characters
,
Philip K. Dick characters
,
playwrights
,
Pokemon characters
,
popes
,
Prince songs
,
Queer as Folk US characters
,
rappers
,
Ratchet and Clank characters
,
saints
,
scientists
,
Shadowhunters characters
,
Sims 4 characters
,
song titles
,
Spain in the Eurovision Song Contest
,
SpongeBob SquarePants characters
,
Star Ocean characters
,
Stephen King characters
,
Stranger Things characters
,
Supernatural characters
,
Tales characters
,
television
,
The Flight Attendant characters
,
The Golden Girls characters
,
The Rose of Versailles characters
,
The Sopranos characters
,
The West Wing characters
,
top 10 in Belgium
,
top 10 in Denmark
,
top 10 in Mexico
,
top 10 in Peru
,
top 10 in Puerto Rico
,
Two and a Half Men characters
,
Ursula K. Le Guin characters
,
victory
,
Wii Sports Club opponent Miis
,
Wii Sports series opponent Miis
,
word names
,
world leaders
,
X-Men
,
YouTubers
,
Yuri on Ice characters