From the Hebrew name
מִיכָאֵל (Mikha'el)
meaning
"who is like God?"
. This is a rhetorical question, implying no person is like God. Michael is one of the archangels in Hebrew tradition and the only one identified as an archangel in the Bible. In the Book of Daniel in the
Old Testament
he is named as a protector of Israel (see
Daniel 12:1
). In the Book of Revelation in the
New Testament
he is portrayed as the leader of heaven's armies in the war against Satan, and is thus considered the patron
saint
of soldiers in Christianity.The popularity of the saint led to the name being used by nine Byzantine emperors, including Michael VIII Palaeologus who restored the empire in the 13th century. It has been common in Western Europe since the Middle Ages, and in England since the 12th century. It has been borne (in various spellings) by rulers of Russia (spelled
Михаил
), Romania (
Mihai
), Poland (
Michał
), and Portugal (
Miguel
).In the United States, this name rapidly gained popularity beginning in the 1930s, eventually becoming the most popular male name from 1954 to 1998. However, it was not as overwhelmingly common in the United Kingdom, where it never reached the top spot.Famous bearers of this name include the British chemist/physicist Michael Faraday (1791-1867), musician Michael Jackson (1958-2009), and basketball player Michael Jordan (1963-).
People think this name is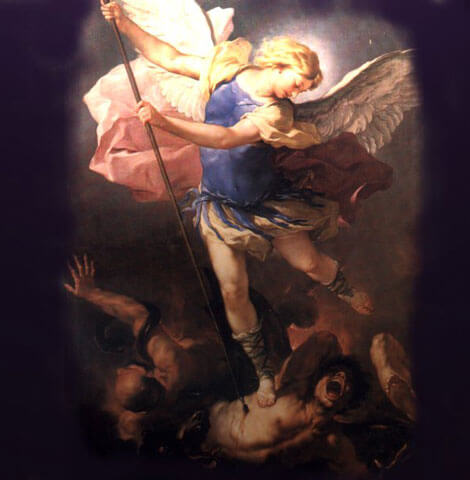 Saint Michael the Archangel fighting Satan, painting by Luca Giordano (1663)
1950s
,
1960s
,
1970s
,
A Song of Ice and Fire characters
,
Alan Wake characters
,
alpinists
,
American Horror Story characters
,
American vice presidents
,
angels
,
Anne Rice characters
,
archangels
,
Armistead Maupin characters
,
Austrian presidents
,
Barry Lyndon
,
Bewitched characters
,
Big Little Lies characters
,
black history
,
boxers
,
Braxton family
,
Bridgerton characters
,
British royal family
,
Castlevania characters
,
Charles Dickens characters
,
child actors
,
City Hunter characters
,
Code Lyoko characters
,
composers
,
country music singers
,
Cyprus in the Eurovision Song Contest
,
Danish royal family
,
Deadly Premonition characters
,
Denmark in the Eurovision Song Contest
,
Derry Girls characters
,
Detroit Become Human characters
,
directors
,
Disney characters
,
Downton Abbey characters
,
Dragalia Lost characters
,
DrakenNieR characters
,
Dream SMP members
,
Duggar family
,
Edens Zero characters
,
EGOT winners
,
emperors
,
Eurovision 2019
,
Eurovision 2022
,
fashion designers
,
Five Nights at Freddy's characters
,
Flack characters
,
Fleetwood Mac members
,
Frasier characters
,
Fringe characters
,
German chancellors
,
Germany in the Eurovision Song Contest
,
Godfather characters
,
Grand Theft Auto V characters
,
graphic designers
,
Grease
,
Greek royal family
,
guitarists
,
Gundam characters
,
Harry Belafonte repertoire
,
Harry Potter characters
,
House of Cards US characters
,
Ireland in the Eurovision Song Contest
,
Irish presidents
,
isograms
,
Israel in the Eurovision Song Contest
,
James Joyce characters
,
Jane the Virgin characters
,
Joni Mitchell songs
,
Junketsu no Maria characters
,
Keeping Up Appearances characters
,
Kennedy family
,
keyboardists
,
Leo Tolstoy characters
,
Little Bill characters
,
Lucius characters
,
Mad Men characters
,
martyrs
,
Megami Tensei characters
,
Morrissey songs
,
mountaineers
,
NASCAR
,
NBA players
,
never out of the US top 100
,
never out of the US top 1000
,
nobility
,
Octavia E. Butler characters
,
Once Upon a Time characters
,
Orthodox saints
,
Oscar Wilde characters
,
patron saints
,
Peaky Blinders characters
,
Peter Pan characters
,
Pokemon characters
,
pop music
,
pop singers
,
Quantico characters
,
Queer as Folk US characters
,
questions
,
R.E.M. lyrics
,
R'n'B singers
,
reggae musicians
,
retired Atlantic hurricane names
,
Rick and Morty characters
,
Roald Dahl characters
,
Robert A. Heinlein characters
,
saints
,
scientists
,
Scott Pilgrim vs the World characters
,
sculptors
,
Sex Education characters
,
Shakespearean characters
,
Silent Hill characters
,
Sims 2 characters
,
Sims 3 characters
,
Sims 4 characters
,
smooth jazz
,
song titles
,
South Park characters
,
Star Ocean characters
,
Star Trek characters
,
Stephen King characters
,
storms
,
Stranger Things characters
,
Supernatural characters
,
surfers
,
Switzerland in the Eurovision Song Contest
,
Taboo characters
,
television
,
The Golden Girls characters
,
The Good Place characters
,
The Great British Bake Off contestants
,
The IT Crowd characters
,
The Kindaichi Case Files characters
,
The Last of Us characters
,
The Marvelous Mrs. Maisel characters
,
The Matrix characters
,
The Missing characters
,
The Nanny characters
,
The Office US characters
,
The Sims characters
,
The Sopranos characters
,
The West Wing characters
,
theophoric names
,
Thomas Hardy characters
,
top 10 in Denmark
,
top 10 in Germany
,
top 10 in Ireland
,
top 10 in Jamaica
,
top 10 in South Africa
,
top 10 in Switzerland
,
top 10 in the Philippines
,
top 10 in the US
,
top 10 in the World
,
Tori Amos lyrics
,
Total Drama characters
,
TV show titles
,
United Kingdom in the Eurovision Song Contest
,
Virtua Tennis opponent characters
,
voice actors
,
W. Somerset Maugham characters
,
Warrior Nun characters
,
Westworld characters
,
Wii Sports opponent Miis
,
Wii Sports series opponent Miis
,
Will and Grace characters
,
WITCH characters
,
world leaders
,
YouTubers