Usage
English, Italian, French, German, Polish, Hungarian, Slovene, Croatian, Dutch, Swedish, Danish, Norwegian, Late Roman
Derived from Greek
βάρβαρος (barbaros)
meaning
"foreign"
. According to legend,
Saint
Barbara was a young woman killed by her father Dioscorus, who was then killed by a bolt of lightning. She is the patron of architects, geologists, stonemasons and artillerymen. Because of her renown, the name came into general use in the Christian world in the Middle Ages. In England it became rare after the
Protestant Reformation
, but it was revived in the 19th century.
People think this name is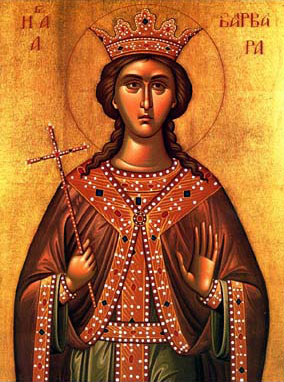 Icon depicting Saint Barbara
1940s
,
A Song of Ice and Fire characters
,
Alan Wake characters
,
American Horror Story characters
,
Anne of Green Gables characters
,
architects
,
architecture
,
Austrian presidents
,
authors
,
Barbie characters
,
Beetlejuice characters
,
Belgium in the Eurovision Song Contest
,
black history
,
Caillou characters
,
Charles Dickens characters
,
civil rights
,
Courage The Cowardly Dog characters
,
DC Comics characters
,
de Havilland family
,
Dharma and Greg characters
,
Disgaea characters
,
Doctor Who companions
,
Emergency characters
,
Euphoria characters
,
Eurovision 2021
,
Family Affair characters
,
Family Guy characters
,
female US presidential candidates
,
figure skaters
,
first ladies of the USA
,
France in the Eurovision Song Contest
,
Genshin Impact characters
,
How to Train Your Dragon characters
,
Ireland in the Eurovision Song Contest
,
It's Always Sunny in Philadelphia characters
,
Kaleido Star characters
,
Killing Eve characters
,
legend
,
LGBT history
,
lightning
,
Little Witch Academia characters
,
martyrs
,
Marvel characters
,
medieval
,
Miraculous Ladybug characters
,
models
,
never out of the US top 1000
,
Orthodox saints
,
Philip K. Dick characters
,
photographers
,
princesses
,
rhythmic gymnasts
,
Robert A. Heinlein characters
,
saints
,
screenwriters
,
sculptors
,
Seinfeld characters
,
Shining characters
,
Sims 3 characters
,
Six Feet Under characters
,
Slovenia in the Eurovision Song Contest
,
song titles
,
Star Trek actors
,
stone
,
storms
,
Stranger Things characters
,
Suikoden characters
,
Switzerland in the Eurovision Song Contest
,
television
,
The Amazing World of Gumball characters
,
The Golden Girls characters
,
The IT Crowd characters
,
The Man Who Came to Dinner characters
,
The Sopranos characters
,
The Walking Dead characters
,
The West Wing characters
,
Thomas Hardy characters
,
top 10 in Canada
,
top 10 in the US
,
travel
,
trendy
,
Two and a Half Men characters
,
victims
,
Virtua Tennis opponent characters
,
war
,
weather
,
What Remains of Edith Finch characters
,
Wii Sports Resort opponent Miis
,
Wii Sports series opponent Miis
,
Will and Grace characters
,
women and death
,
YouTubers