From the Greek name
Γεώργιος (Georgios)
, which was derived from the Greek word
γεωργός (georgos)
meaning
"farmer, earthworker"
, itself derived from the elements
γῆ (ge)
meaning "earth" and
ἔργον (ergon)
meaning "work".
Saint
George was a 3rd-century Roman soldier from Cappadocia who was martyred during the persecutions of Emperor Diocletian. Later legends describe his defeat of a dragon, with which he was often depicted in medieval art.Initially Saint George was primarily revered by Eastern Christians, but returning crusaders brought stories of him to Western Europe and he became the patron of England, Portugal, Catalonia and Aragon. The name was rarely used in England until the German-born George I came to the British throne in the 18th century. Five subsequent British kings have borne the name.Other famous bearers include two kings of Greece, the composer George Frideric Handel (1685-1759), the first president of the United States, George Washington (1732-1797), and the Pacific explorer George Vancouver (1757-1798). This was also the
pen name
of authors George Eliot (1819-1880) and George Orwell (1903-1950), real names Mary Anne Evans and Eric Arthur Blair respectively.This name is also used by Christians in India, notably Saint Thomas Christians in the state of Kerala in the spelling
ജോർജ്ജ് (Jorjj)
.
People think this name is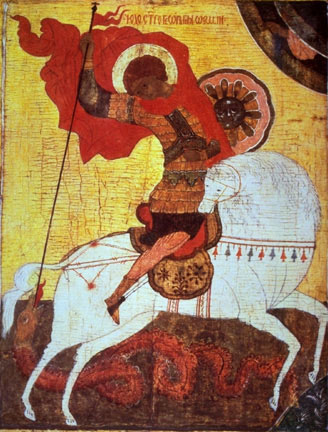 Icon depicting Saint George and the dragon
1930s
,
A Good Girl's Guide to Murder characters
,
Algonquin Round Table members
,
American founding fathers
,
American presidents
,
American vice presidents
,
Anne of Green Gables characters
,
Aphra Behn characters
,
Archive 81 characters
,
Arthur characters
,
artists
,
Ashita no Nadja characters
,
Australian prime ministers
,
Austria in the Eurovision Song Contest
,
authors
,
Back to the Future characters
,
Barry Lyndon
,
baseball players
,
Black Clover characters
,
Bob Dylan songs
,
boxers
,
Bridgerton characters
,
British royal family
,
Caillou characters
,
cartoon characters
,
Charles Dickens characters
,
Charlie and the Chocolate Factory characters
,
child actors
,
comedians
,
composers
,
country music singers
,
Cowboy Bebop characters
,
D. H. Lawrence characters
,
Deadly Premonition characters
,
Death Note characters
,
Death Stranding characters
,
Desperate Housewives characters
,
Dharma and Greg characters
,
directors
,
Disney characters
,
Divergent characters
,
Downton Abbey characters
,
Dream SMP members
,
earth
,
Emergency characters
,
Ernest Hemingway characters
,
explorers
,
Family Affair characters
,
Flack characters
,
folk heroes
,
footballers
,
Frasier characters
,
Fringe characters
,
Full Metal Panic characters
,
Georgia in the Eurovision Song Contest
,
Gilligan's Island characters
,
Gone with the Wind characters
,
Grey's Anatomy characters
,
Gundam characters
,
Hamilton characters
,
Harry Potter characters
,
House of Cards US characters
,
inventors
,
Irish presidents
,
Jane Austen characters
,
Jojo's Bizarre Adventure characters
,
Kennedy family
,
keyboardists
,
kings
,
Law and Order characters
,
LGBT history
,
literature
,
Lou Reed songs
,
Louisa May Alcott characters
,
love island Greece
,
love island UK
,
love island US
,
Lovecraft Country characters
,
martyrs
,
mascots
,
Maud Hart Lovelace characters
,
Mayflower passengers
,
Mother characters
,
Muppets
,
NASCAR
,
nature
,
NBA players
,
never out of the US top 1000
,
occupations
,
Once Upon a Time characters
,
Orthodox saints
,
Our Flag Means Death characters
,
Oz characters
,
painters
,
paintings
,
people executed during the Salem witch trials
,
Peppa Pig characters
,
pet names
,
Philip K. Dick characters
,
philosophers
,
playwrights
,
poets
,
Poldark characters
,
politics
,
Prince songs
,
printmakers
,
rappers
,
Ratched characters
,
Resident Evil characters
,
Roald Dahl characters
,
Robert A. Heinlein characters
,
rock musicians
,
rock singers
,
Romania in the Eurovision Song Contest
,
Romanian presidents
,
Roseanne characters
,
saints
,
Seinfeld characters
,
Shakespearean characters
,
Silent Hill characters
,
Sims 4 characters
,
Six Feet Under characters
,
skiffle
,
smooth jazz
,
Spy x Family characters
,
Star Trek actors
,
Star Trek characters
,
Stardew Valley characters
,
Stephen King characters
,
Stranger Things characters
,
Taboo characters
,
Tamora Pierce characters
,
Tennessee Williams characters
,
The Four Hundred members
,
The Gilded Age characters
,
The Golden Girls characters
,
The Great British Bake Off contestants
,
The Man in the High Castle characters
,
The Sopranos characters
,
The West Wing characters
,
Thomas Hardy characters
,
top 10 in Cornwall
,
top 10 in Egypt Coptic Christians
,
top 10 in Jamaica
,
top 10 in Lebanon
,
top 10 in New Zealand
,
top 10 in the UK
,
top 10 in the US
,
top 10 in Wales
,
Tori Amos lyrics
,
Tori Amos songs
,
TTC stations
,
TV show titles
,
Two and a Half Men characters
,
UK prime ministers
,
Ursula K. Le Guin characters
,
Virginia Woolf characters
,
Virtua Tennis opponent characters
,
W. Somerset Maugham characters
,
Westworld characters
,
When They Cry characters
,
Wii Sports Resort opponent Miis
,
Wii Sports series opponent Miis
,
Will and Grace characters
,
William Faulkner characters
,
world leaders
,
writers
,
YouTubers
,
Ys characters