Meaning & History
Derived from
Jackin
(earlier
Jankin
), a medieval
diminutive
of
JOHN
. It is often regarded as an independent name. During the Middle Ages it was very common, and it became a slang word meaning "man". It was frequently used in fairy tales and nursery rhymes, such as
Jack and the Beanstalk
,
Little Jack Horner
, and
Jack Sprat
.American writers Jack London (1876-1916) and Jack Kerouac (1922-1969) were two famous bearers of this name. It is also borne by the actor Jack Nicholson (1937-) and the golfer Jack Nicklaus (1940-). Apart from Nicklaus, none of these famous bearers were given the name
Jack
at birth.In the United Kingdom this form has been bestowed more frequently than
John
since the 1990s, being the most popular name for boys from 1996 to 2008.
Images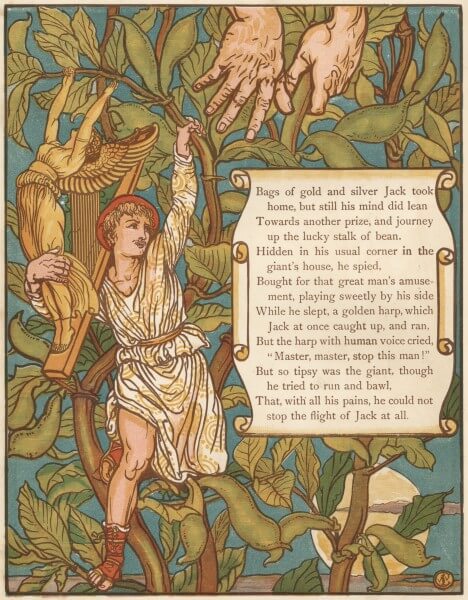 Depiction of Jack and the Bean Stalk by Walter Crane (1875)
People think this name is
classic
youthful
informal
common
natural
strong
rough
simple
comedic
Categories
A Song of Ice and Fire characters
,
Ace Attorney characters
,
actors
,
alcohol
,
American Dad characters
,
American Gods characters
,
American Horror Story characters
,
American presidents
,
Animal Crossing characters
,
Anne of Green Gables characters
,
athletes
,
authors
,
Baccano characters
,
Caillou characters
,
Charles Dickens characters
,
City Hunter characters
,
D H Lawrence characters
,
Deadly Premonition characters
,
Death Note characters
,
diminutives
,
directors
,
Discworld characters
,
Disney characters
,
Divergent characters
,
Doctor Who companions
,
Downton Abbey characters
,
Dracula characters
,
English verbs
,
fast food chains
,
Final Fantasy characters
,
Hamtaro characters
,
House of Cards US characters
,
Its Always Sunny in Philadelphia characters
,
James Joyce characters
,
Kill la Kill characters
,
Kingdom Hearts characters
,
Lord of the Flies characters
,
Louisa May Alcott characters
,
Marvel characters
,
mascots
,
medieval
,
Megami Tensei characters
,
murderers
,
musicians
,
never out of the US top 1000
,
Ogre Battle characters
,
Oscar Wilde characters
,
Overwatch characters
,
Philip K Dick characters
,
Power Rangers characters
,
Radford family
,
scientists
,
Shakespearean characters
,
singers
,
Six Feet Under characters
,
song titles
,
Star Trek characters
,
Stephen King characters
,
Supernatural characters
,
Tekken characters
,
The Man in the High Castle characters
,
The Sopranos characters
,
Thomas Hardy characters
,
Titanic characters
,
top 10 in Australia
,
top 10 in New Zealand
,
top 10 in Northern Ireland
,
top 10 in the UK
,
Torchwood characters
,
W Somerset Maugham characters
,
Wild Arms characters
,
Will and Grace characters
,
William Faulkner characters