From
Ioseph
, the Latin form of Greek
Ἰωσήφ (Ioseph)
, which was from the Hebrew name
יוֹסֵף (Yosef)
meaning
"he will add"
, from the root
יָסַף (yasaf)
. In the
Old Testament
Joseph is the eleventh son of
Jacob
and the first with his wife
Rachel
. Because he was the favourite of his father, his older brothers sent him to Egypt and told their father that he had died. In Egypt, Joseph became an advisor to the pharaoh, and was eventually reconciled with his brothers when they came to Egypt during a famine. This name also occurs in the
New Testament
, belonging to
Saint
Joseph the husband of
Mary
, and to Joseph of Arimathea.In the Middle Ages,
Joseph
was a common Jewish name, being less frequent among Christians. In the late Middle Ages Saint Joseph became more highly revered, and the name became popular in Spain and Italy. In England it became common after the
Protestant Reformation
. In the United States it has stayed within the top 25 names for boys since 1880, making it one of the most enduringly popular names of this era.This name was borne by rulers of the Holy Roman Empire and Portugal. Other notable bearers include the founder of Mormonism Joseph Smith (1805-1844), Polish-British author Joseph Conrad (1857-1924) and the Soviet dictator Joseph Stalin (1878-1953).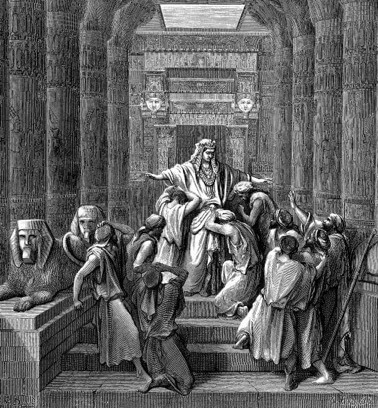 Joseph Makes Himself Known to His Brothers, by Gustave Doré (1866)
actions
,
Algonquin Round Table members
,
American Horror Story characters
,
American presidents
,
American vice presidents
,
Anne Rice characters
,
Australian prime ministers
,
authors
,
Big Little Lies characters
,
BoJack Horseman characters
,
Canadian prime ministers
,
Charles Dickens characters
,
children of Thomas Arthur Green
,
Chocolatier characters
,
Code Geass characters
,
DJs
,
Downton Abbey characters
,
Duggar family
,
Filipino presidents
,
folk heroes
,
French presidents
,
Fringe characters
,
German chancellors
,
growth
,
Gundam characters
,
H. P. Lovecraft characters
,
history
,
Ireland in the Eurovision Song Contest
,
islands
,
isograms
,
Jojo's Bizarre Adventure characters
,
Junketsu no Maria characters
,
Kennedy family
,
King of the Hill characters
,
Leo Tolstoy characters
,
Liechtenstein princely family
,
Malta in the Eurovision Song Contest
,
Man of Medan characters
,
Mayflower passengers
,
murderers
,
never out of the US top 100
,
never out of the US top 1000
,
Octavia E. Butler characters
,
Orthodox saints
,
Oscar Wilde characters
,
paintings
,
Philip K. Dick characters
,
Ratched characters
,
Redwall characters
,
Resident Evil characters
,
Rick and Morty characters
,
Robert A. Heinlein characters
,
rock musicians
,
ROD the TV characters
,
saints
,
Scott Pilgrim vs the World characters
,
sculptors
,
Silent Hill characters
,
sons of Jacob
,
Stephen King characters
,
surnames
,
The Four Hundred members
,
The Killers songs
,
The Man in the High Castle characters
,
The Marvelous Mrs. Maisel characters
,
The Sopranos characters
,
The West Wing characters
,
theophoric names
,
top 10 in Ireland
,
top 10 in Jamaica
,
top 10 in Puerto Rico
,
top 10 in South Africa
,
top 10 in Tanzania
,
top 10 in the UK
,
top 10 in the US
,
Two and a Half Men characters
,
tyrants
,
Virtua Tennis opponent characters
,
Wii Sports Club opponent Miis
,
Wii Sports series opponent Miis
,
Will and Grace characters
,
William Faulkner characters
,
X-Men
,
YouTubers