From the Latin name
Sebastianus
, which meant
"from Sebaste"
. Sebaste was the name a town in Asia Minor, its name deriving from Greek
σεβαστός (sebastos)
meaning "venerable" (a translation of Latin
Augustus
, the title of the Roman emperors). According to Christian tradition,
Saint
Sebastian was a 3rd-century Roman soldier martyred during the persecutions of the emperor Diocletian. After he was discovered to be a Christian, he was tied to a stake and shot with arrows. This however did not kill him. Saint Irene of Rome healed him and he returned to personally admonish Diocletian, whereupon the emperor had him beaten to death.Due to the saint's popularity, the name came into general use in medieval Europe, especially in Spain and France. It was also borne by a 16th-century king of Portugal who died in a crusade against Morocco.
People think this name is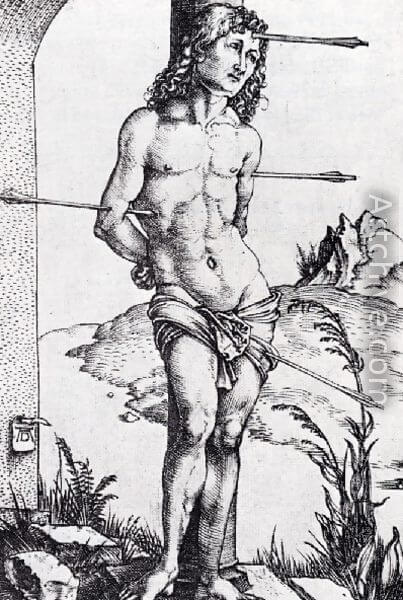 Engraving of Saint Sebastian by Dürer (1500)
2020's Grand Slam tennis players
,
Ace Attorney characters
,
ancient place names
,
Aphra Behn characters
,
Austria in the Eurovision Song Contest
,
Black Butler characters
,
British royal family
,
cat names
,
composers
,
Denmark in the Eurovision Song Contest
,
Dharma and Greg characters
,
directors
,
Disney characters
,
Dragon Age characters
,
DrakenNieR characters
,
Euphoria characters
,
Eurovision 2019
,
Finland in the Eurovision Song Contest
,
Formula One drivers
,
Frasier characters
,
Harry Potter characters
,
Killing Eve characters
,
kings
,
Legend of the Galactic Heroes characters
,
Liechtenstein princely family
,
martyrs
,
mascots
,
Minecraft Story Mode characters
,
Mother characters
,
nationalities
,
NCIS characters
,
Orthodox saints
,
paintings
,
Parks and Recreation characters
,
Philip K. Dick characters
,
place names
,
Polish presidents
,
Quantico characters
,
R.E.M. lyrics
,
Robert A. Heinlein characters
,
rock singers
,
saints
,
Shadowhunters characters
,
Shakespearean characters
,
Song of Horror characters
,
Star Wars actors
,
Stardew Valley characters
,
Suikoden characters
,
teen idols
,
Tekken characters
,
Tennessee Williams characters
,
top 10 in Estonia
,
virtues
,
Westworld characters
,
Will and Grace characters
,
William Faulkner characters
,
writers
,
YouTubers