Most likely related to Hebrew
כֶּלֶב (kelev)
meaning
"dog"
. An alternate theory connects it to Hebrew
כָּל (kal)
meaning "whole, all of" and
לֵב (lev)
meaning "heart". In the
Old Testament
this is the name of one of the twelve spies sent by
Moses
into Canaan. Of the Israelites who left Egypt with Moses, Caleb and
Joshua
were the only ones who lived to see the Promised Land.As an English name,
Caleb
came into use after the
Protestant Reformation
. It was common among the
Puritans
, who introduced it to America in the 17th century.
People think this name is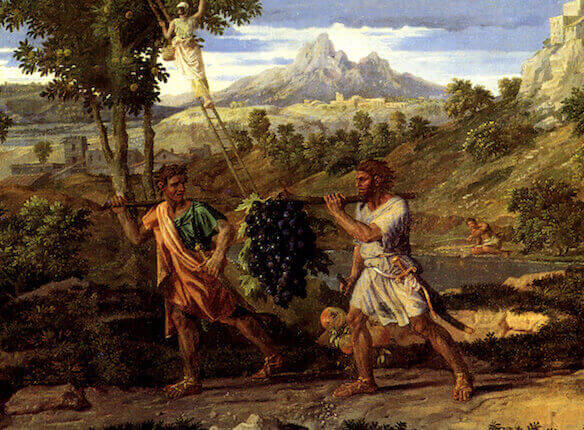 Israelite spies (presumably Caleb and Joshua) carrying grapes in a painting by Nicolas Poussin (1664)
animals
,
Big Mouth characters
,
Braxton family
,
canines
,
Charles Dickens characters
,
child actors
,
completion
,
Critical Role characters
,
Desperate Housewives characters
,
Disney characters
,
Divergent characters
,
Euphoria characters
,
fauna
,
heart
,
isograms
,
love island US
,
Lucius characters
,
Quantico characters
,
rugby union All Blacks
,
Sims 4 characters
,
Star Wars characters
,
teen idols
,
The Owl House characters
,
Total Drama characters
,
uncertain etymology
,
Westworld characters
,
WITCH characters