From the Hebrew name
נָעֳמִי (Na'omi)
meaning
"pleasantness"
. In the
Old Testament
this is the name of the mother-in-law of
Ruth
. After the death of her husband and sons, she returned to Bethlehem with Ruth. There she declared that her name should be
Mara
because of her misfortune (see
Ruth 1:20
).Though long common as a Jewish name,
Naomi
was not typically used as an English Christian name until after the
Protestant Reformation
. A notable bearer is the British model Naomi Campbell (1970-).
People think this name is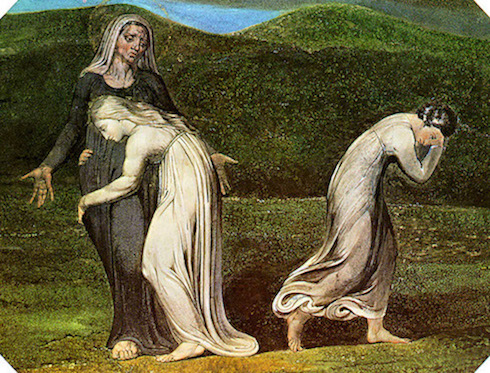 Naomi (in black) asks Ruth and Orpah to return to Moab in a painting by William Blake (1795)
A Good Girl's Guide to Murder characters
,
angels
,
Animal Crossing characters
,
Bewitched characters
,
biblical women
,
black history
,
Choices Stories You Play characters
,
country music singers
,
Dharma and Greg characters
,
Disney characters
,
happiness
,
Hunters characters
,
isograms
,
JESC names
,
Mama's Family characters
,
models
,
never out of the US top 1000
,
Orthodox saints
,
RuPauls Drag Race contestants
,
Star Trek characters
,
Star Wars actors
,
Stephen King characters
,
Supernatural characters
,
The Nanny characters
,
True Blood characters
,
Two and a Half Men characters
,
Weird Al Yankovic
,
Why Women Kill characters
,
Wii Sports opponent Miis
,
Wii Sports series opponent Miis
,
Will and Grace characters
,
wrestlers
,
WWE SmackDown Women's Champions
,
WWE Women's Tag Team Champions
,
YouTubers