From a Hebrew name that was derived from the Hebrew word
רְעוּת (re'ut)
meaning
"friend"
. This is the name of the central character in the Book of Ruth in the
Old Testament
. She was a Moabite woman who accompanied her mother-in-law
Naomi
back to Bethlehem after Ruth's husband died. There she met and married
Boaz
. She was an ancestor of King
David
.As a Christian name,
Ruth
has been in use since the
Protestant Reformation
. In England it was associated with the archaic word
ruth
meaning "pity, compassion" (now only commonly seen in the word
ruthless
). The name became very popular in America following the birth of "Baby" Ruth Cleveland (1891-1904), the daughter of President Grover Cleveland.
People think this name is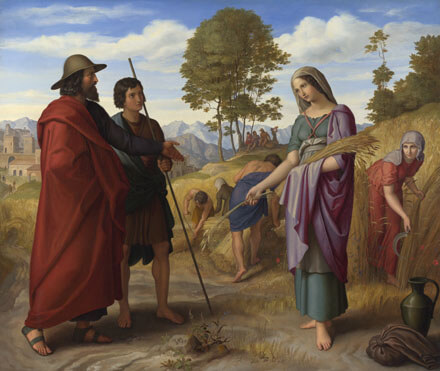 Ruth in Boaz's Field by Julius Schnorr von Carolsfeld (1828)
Algonquin Round Table members
,
American Girl characters
,
Attack on Titan characters
,
biblical women
,
black history
,
books of the Bible
,
candy
,
Charles Dickens characters
,
civil rights
,
Cowboy Bebop characters
,
Family Affair characters
,
Flack characters
,
friendship
,
Hey Arnold characters
,
Hunters characters
,
isograms
,
Louisa May Alcott characters
,
love island Spain
,
Mahoutsukai no Yome characters
,
Maud Hart Lovelace characters
,
Morrissey songs
,
Netherlands in the Eurovision Song Contest
,
never out of the US top 1000
,
Octavia E. Butler characters
,
Once Upon a Time characters
,
Orthodox saints
,
Oz characters
,
Ozark characters
,
pet names
,
Philip K. Dick characters
,
politics
,
pop music
,
pop singers
,
presidents of Switzerland
,
R'n'B singers
,
Simpsons characters
,
Six Feet Under characters
,
Spain in the Eurovision Song Contest
,
Stephen King characters
,
The Four Hundred members
,
The Golden Girls characters
,
The Great British Bake Off contestants
,
The Loud House characters
,
The Nanny characters
,
Titanic characters
,
top 10 in Canada
,
top 10 in the US
,
Two and a Half Men characters
,
Why Women Kill characters
,
Will and Grace characters
,
wives of Joseph Smith
,
women's history
,
word names
,
X-Men
,
YouTubers