From the Greek name
Νικόλαος (Nikolaos)
meaning
"victory of the people"
, derived from Greek
νίκη (nike)
meaning "victory" and
λαός (laos)
meaning "people".
Saint
Nicholas was a 4th-century bishop from Anatolia who, according to legend, saved the daughters of a poor man from lives of prostitution. He is the patron saint of children, sailors and merchants, as well as Greece and Russia. He formed the basis for the figure known as Santa Claus (created in the 19th century from Dutch
Sinterklaas
), the bringer of Christmas presents.Due to the renown of the saint, this name has been widely used in the Christian world. It has been common in England since the 12th century, though it became a bit less popular after the
Protestant Reformation
. The name has been borne by five popes and two czars of Russia.
People think this name is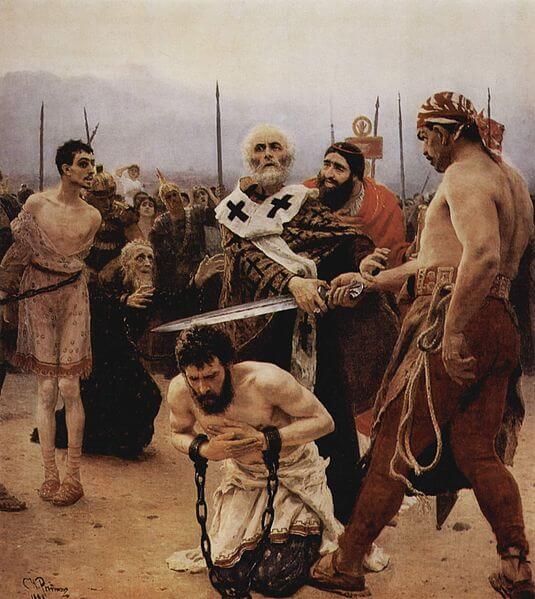 Saint Nicholas of Myra Saves Three Innocents by Repin (1888)
American Horror Story characters
,
Anne Rice characters
,
Attack on Titan characters
,
Baccano characters
,
Catholic saints
,
Charles Dickens characters
,
child actors
,
Chocolatier characters
,
Christmas
,
David Mitchell characters
,
Dharma and Greg characters
,
directors
,
Dishonored characters
,
Dream SMP members
,
Fringe characters
,
Harry Potter characters
,
isograms
,
Leo Tolstoy characters
,
Little Witch Academia characters
,
martyrs
,
Marvel characters
,
NCIS characters
,
never out of the US top 1000
,
Once Upon a Time characters
,
Orthodox saints
,
patron saints
,
people
,
Philip K. Dick characters
,
popes
,
Rule of Rose characters
,
saints
,
Shadow Hearts characters
,
success
,
The Marvelous Mrs. Maisel characters
,
The Rose of Versailles characters
,
The Sopranos characters
,
The Walking Dead characters
,
The West Wing characters
,
Thomas Hardy characters
,
top 10 in Australia
,
top 10 in the US
,
Trigun characters
,
victory
,
Virginia Woolf characters
,
Westworld characters
,
Will and Grace characters
,
YouTubers