From Aramaic
מַרְתָּא (marta')
meaning
"the lady, the mistress"
, feminine form of
מַר (mar)
meaning "master". In the
New Testament
this is the name of the sister of
Lazarus
and
Mary
of Bethany (who is sometimes identified with Mary Magdalene). She was a witness to
Jesus
restoring her dead brother to life.The name was not used in England until after the
Protestant Reformation
. A notable bearer was Martha Washington (1731-1802), the wife of the first American president George Washington. It is also borne by the media personality Martha Stewart (1941-).
People think this name is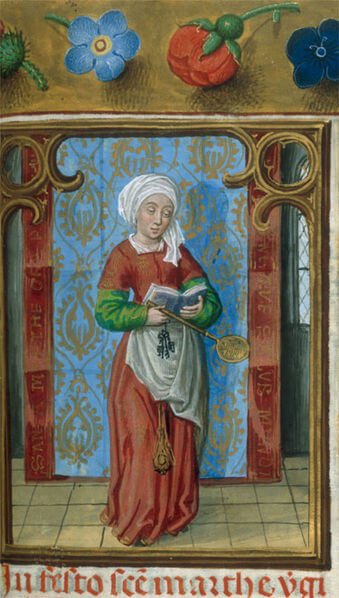 Depiction of Martha of Bethany (1497)
American Horror Story characters
,
Beatles songs
,
biblical women
,
blues musicians
,
brand names
,
Charles Dickens characters
,
child actors
,
choreographers
,
DC Comics characters
,
Desperate Housewives characters
,
Dharma and Greg characters
,
Dishonored characters
,
Doctor Who companions
,
Downton Abbey characters
,
female US presidential candidates
,
first ladies of the USA
,
Frasier characters
,
Gundam characters
,
Heathers characters
,
His Dark Materials characters
,
House of Cards US characters
,
James Joyce characters
,
Jane Austen characters
,
Jimmy Neutron characters
,
Junketsu no Maria characters
,
leadership
,
master
,
never out of the US top 1000
,
Ni no Kuni characters
,
Nintendo characters
,
Octavia E. Butler characters
,
opera
,
Orthodox saints
,
Path of the Ranger characters
,
people executed during the Salem witch trials
,
princesses
,
Rule of Rose characters
,
saints
,
Shining characters
,
Simpsons characters
,
song titles
,
Spy x Family characters
,
storms
,
Suikoden characters
,
television
,
The Four Hundred members
,
The Golden Girls characters
,
The Great British Bake Off contestants
,
The Legend of Zelda characters
,
The Marvelous Mrs. Maisel characters
,
The West Wing characters
,
top 10 in Mexico
,
top 10 in South Africa
,
Tori Amos lyrics
,
Tori Amos songs
,
True Blood characters
,
Two and a Half Men characters
,
W. Somerset Maugham characters
,
Why Women Kill characters
,
Will and Grace characters
,
William Faulkner characters
,
wives of Brigham Young
,
wives of Joseph Smith
,
women
,
X-Men
,
Ys characters