From the Roman name
Martinus
, which was derived from
Martis
, the genitive case of the name of the Roman god
Mars
.
Saint
Martin of Tours was a 4th-century bishop who is the patron saint of France. According to legend, he came across a cold beggar in the middle of winter so he ripped his cloak in two and gave half of it to the beggar. He was a favourite saint during the Middle Ages, and his name has become common throughout the Christian world.An influential bearer of the name was Martin Luther (1483-1546), the theologian who began the
Protestant Reformation
. The name was also borne by five popes (two of them more commonly known as Marinus). Other more recent bearers include the German philosopher Martin Heidegger (1889-1976), the American civil rights leader Martin Luther King Jr. (1929-1968), and the American filmmaker Martin Scorsese (1942-).
People think this name is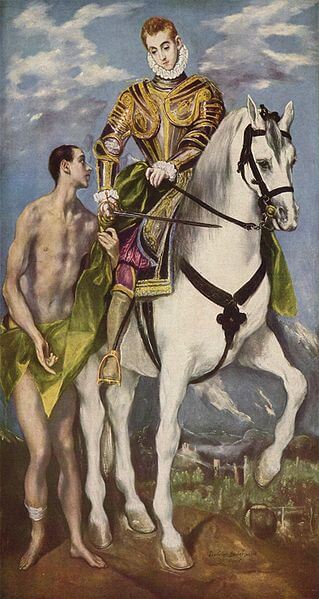 Depiction of Saint Martin splitting his cloak by El Greco (1599)
Martin Luther King (1964)
Alien characters
,
American presidents
,
American vice presidents
,
animals
,
artists
,
Attack on Titan characters
,
authors
,
Big Little Lies characters
,
birds
,
black history
,
Bully characters
,
Canadian prime ministers
,
Charles Dickens characters
,
civil rights
,
colleges or universities
,
Dantalian no Shoka characters
,
Detroit Become Human characters
,
directors
,
Elder Scrolls characters
,
Ernest Hemingway characters
,
Eurovision Song Contest winners
,
Frasier characters
,
Grand Theft Auto V characters
,
House of Cards US characters
,
Hunger Games characters
,
James Joyce characters
,
kings
,
Mars
,
Milo Murphy's Law characters
,
movies
,
never out of the US top 1000
,
Orthodox saints
,
Outlast characters
,
Ozark characters
,
philosophers
,
popes
,
Redwall characters
,
saints
,
scientists
,
Silent Hill characters
,
Simpsons characters
,
Six Feet Under characters
,
song titles
,
Stephen King characters
,
Stranger Things characters
,
The Golden Girls characters
,
The Man in the High Castle characters
,
The Marvelous Mrs. Maisel characters
,
theologians
,
top 10 in Denmark
,
top 10 in Estonia
,
top 10 in Galicia
,
top 10 in Ireland
,
top 10 in Slovakia
,
Totally Spies characters
,
True Detective characters
,
TV show titles
,
Two and a Half Men characters
,
Virginia Woolf characters
,
Westworld characters
,
Wii Sports opponent Miis
,
Wii Sports series opponent Miis
,
Will and Grace characters
,
WITCH characters
,
world leaders