Usage
German, Spanish, Portuguese, Italian, French, Catalan, Romanian, English, Swedish, Danish, Late Roman
Feminine form of the Late Latin name
Clarus
, which meant
"clear, bright, famous"
. The name
Clarus
was borne by a few early
saints
. The feminine form was popularized by the 13th-century Saint Clare of Assisi (called
Chiara
in Italian), a friend and follower of Saint Francis, who left her wealthy family to found the order of nuns known as the Poor Clares.As an English name it has been in use since the Middle Ages, originally in the form
Clare
, though the Latinate spelling
Clara
overtook it in the 19th century and became very popular. It declined through most of the 20th century (being eclipsed by the French form
Claire
in English-speaking countries), though it has since recovered somewhat.
People think this name is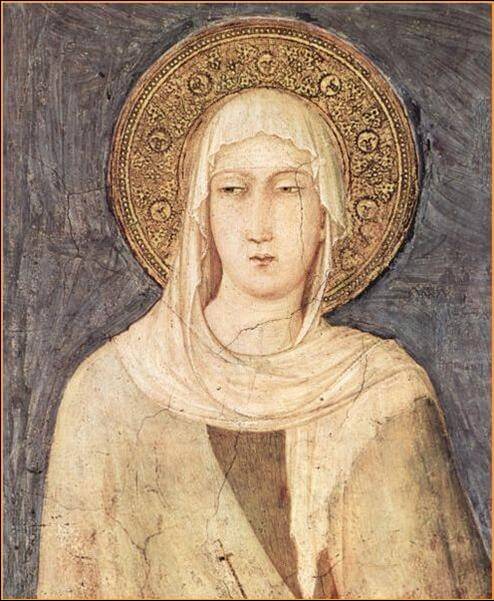 Depiction of Saint Clare from a fresco in Assisi
2020's Grand Slam tennis players
,
Aphra Behn characters
,
authors
,
Back to the Future characters
,
Barbie's roles
,
Bewitched characters
,
blues musicians
,
Charles Dickens characters
,
clarity
,
classical music
,
Code Geass characters
,
composers
,
Cowboy Bebop characters
,
D. H. Lawrence characters
,
Disney characters
,
Doctor Who companions
,
educators
,
fame
,
feminine forms
,
Flack characters
,
gospel musicians
,
Grandia characters
,
healthcare
,
His Dark Materials characters
,
Jane Austen characters
,
Kingdom Hearts characters
,
Latin words
,
Legend of the Galactic Heroes characters
,
light
,
literature
,
Louisa May Alcott characters
,
medieval
,
Miraculous Ladybug characters
,
never out of the US top 1000
,
Oz characters
,
princesses
,
Rule of Rose characters
,
saints
,
Sims 4 characters
,
Spanish words
,
storms
,
Tamora Pierce characters
,
The Gilded Age characters
,
The Haunting characters
,
The Man in the High Castle characters
,
top 10 in Belgium
,
top 10 in Denmark
,
top 10 in Germany
,
top 10 in the US
,
top 100 Portugal
,
Violet Evergarden characters
,
Virginia Woolf characters
,
Vocaloid characters
,
Wii Sports Club opponent Miis
,
Wii Sports series opponent Miis
,
women's history
,
writers
,
YouTubers