Means
"divine, goddesslike"
, a derivative of
dia
or
diva
meaning
"goddess"
. It is ultimately related to the same Indo-European root *
dyew-
found in
Zeus
. Diana was a Roman goddess of the moon, hunting, forests and childbirth, often identified with the Greek goddess
Artemis
.As a given name,
Diana
has been regularly used since the Renaissance. It became more common in the English-speaking world following Walter Scott's novel
Rob Roy
(1817), which featured a character named Diana Vernon. It also appeared in George Meredith's novel
Diana of the Crossways
(1885). A notable bearer was the British royal Diana Spencer (1961-1997), the Princess of Wales.
People think this name is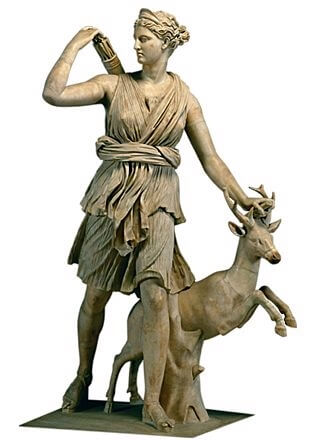 Sculpture of the goddess Diana (Artemis)
American Horror Story characters
,
Animal Crossing characters
,
Anne of Green Gables characters
,
Aphra Behn characters
,
Barry Lyndon
,
British royal family
,
celestial
,
cigarette brands
,
D. H. Lawrence characters
,
DC Comics characters
,
deities
,
divine
,
Downton Abbey characters
,
Edmund Spenser characters
,
ends in -ana
,
Ernest Hemingway characters
,
Estonia in the Eurovision Song Contest
,
fertility deities
,
Fringe characters
,
Georgia in the Eurovision Song Contest
,
goddesses
,
gods
,
heavenly
,
hunters
,
Italian Westerns
,
Jane Austen characters
,
legend
,
literature
,
Little Witch Academia characters
,
Lovecraft Country characters
,
lunar deities
,
moon
,
Morrissey songs
,
Peaky Blinders characters
,
princesses
,
RB singers
,
retired Atlantic hurricane names
,
Robert A. Heinlein characters
,
Rule of Rose characters
,
Sailor Moon characters
,
Saint Seiya characters
,
Shakespearean characters
,
Slovenia in the Eurovision Song Contest
,
smooth jazz
,
socialites
,
song titles
,
Spanish words
,
Spice and Wolf characters
,
Star Trek actors
,
storms
,
The Flight Attendant characters
,
The Great British Bake Off contestants
,
The Walking Dead game characters
,
top 10 in Azerbaijan
,
top 10 in Costa Rica
,
top 10 in Ecuador
,
top 10 in Russia
,
top 10 in Russia - 2000s
,
top 10 in Ukraine
,
top 100 Portugal
,
triple deities
,
vampires
,
Virginia Woolf characters
,
Witch Hunter characters
,
wives of Brigham Young
,
women
,
word names