From the Hebrew name
יוֹאֵל (Yo'el)
meaning
"Yahweh is God"
, from the elements
יוֹ (yo)
and
אֵל ('el)
, both referring to the Hebrew God. Joel is one of the twelve minor prophets of the
Old Testament
, the author of the Book of Joel, which describes a plague of locusts. In England, it was first used as a Christian name after the
Protestant Reformation
.
People think this name is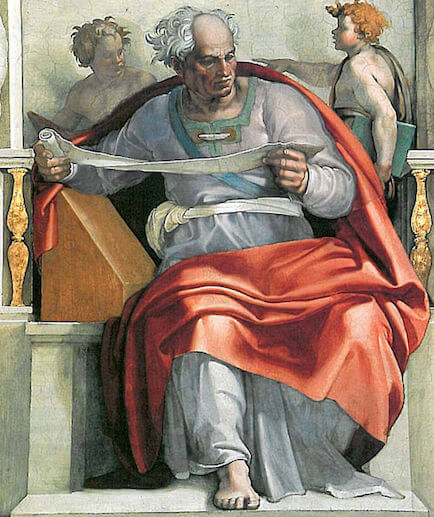 Joel the Prophet from the ceiling of the Sistine Chapel (1512)
Anne Rice characters
,
books of the Bible
,
child actors
,
Dharma and Greg characters
,
directors
,
Eurovision 2021
,
game show hosts
,
Genshin Impact characters
,
isograms
,
Mahoutsukai no Yome characters
,
minor prophets of the Old Testament
,
NBA players
,
never out of the US top 1000
,
Nintendo characters
,
Overwatch characters
,
Power Rangers characters
,
Scott Pilgrim vs the World characters
,
Star Wars actors
,
Stephen King characters
,
The Killers songs
,
The Last of Us characters
,
The Legend of Zelda characters
,
The Marvelous Mrs. Maisel characters
,
top 10 in Albania
,
top 10 in Switzerland
,
top 10 in the Philippines
,
True Detective characters
,
Two and a Half Men characters
,
Virtua Tennis opponent characters
,
William Faulkner characters
,
WITCH characters
,
YouTubers