Latinized form of the Greek name
Φοίβη (Phoibe)
, which meant
"bright, pure"
from Greek
φοῖβος (phoibos)
. In Greek
mythology
Phoibe was a Titan associated with the moon. This was also an epithet of her granddaughter, the moon goddess
Artemis
. The name appears in
Paul
's epistle to the Romans in the
New Testament
, where it belongs to a female minister in the church at Cenchreae.In England, it began to be used as a given name after the
Protestant Reformation
. It was moderately common in the 19th century. It began to rise in popularity again in the late 1980s, probably helped along by characters on the American television shows
Friends
(1994-2004) and
Charmed
(1998-2006). It is currently much more common in the United Kingdom, Australia and New Zealand than the United States.A moon of Saturn bears this name, in honour of the Titan.
People think this name is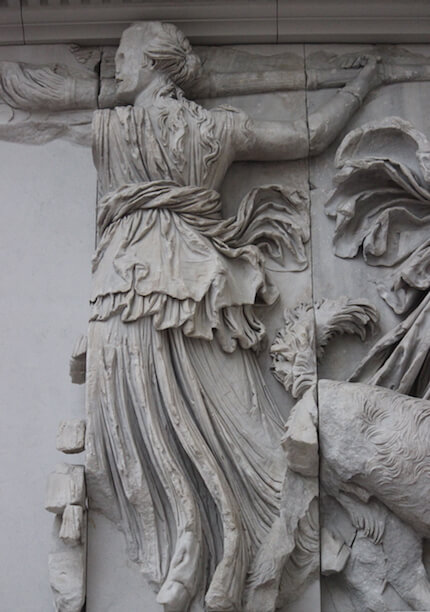 Phoebe the Titan as depicted on the Altar of Pergamon ©
Amazon warriors
,
Animal Crossing characters
,
Bewitched characters
,
biblical women
,
birds
,
Charles Dickens characters
,
child actors
,
Cocteau Twins songs
,
Disney characters
,
epithets
,
fashion designers
,
Friends characters
,
goddesses
,
Greek mythology
,
Hey Arnold characters
,
Latinizations
,
light
,
literature
,
lunar deities
,
moons
,
moons of Saturn
,
mythology
,
Orthodox saints
,
podcasters
,
Pokemon characters
,
purity
,
Radford family
,
Saint Seiya characters
,
saints
,
Shakespearean characters
,
space
,
Star Wars actors
,
teen idols
,
television
,
The Magic School Bus characters
,
titans
,
virtues
,
warriors
,
William Faulkner characters
,
wives of Brigham Young
,
wives of Joseph Smith
,
X-Men