Originally a Norman French form of the Germanic name
Hrodohaidis
meaning
"famous type"
, composed of the elements
hruod
"fame" and
heit
"kind, sort, type". The
Normans
introduced it to England in the forms
Roese
and
Rohese
. From an early date it was associated with the word for the fragrant flower
rose
(derived from Latin
rosa
). When the name was revived in the 19th century, it was probably with the flower in mind.
People think this name is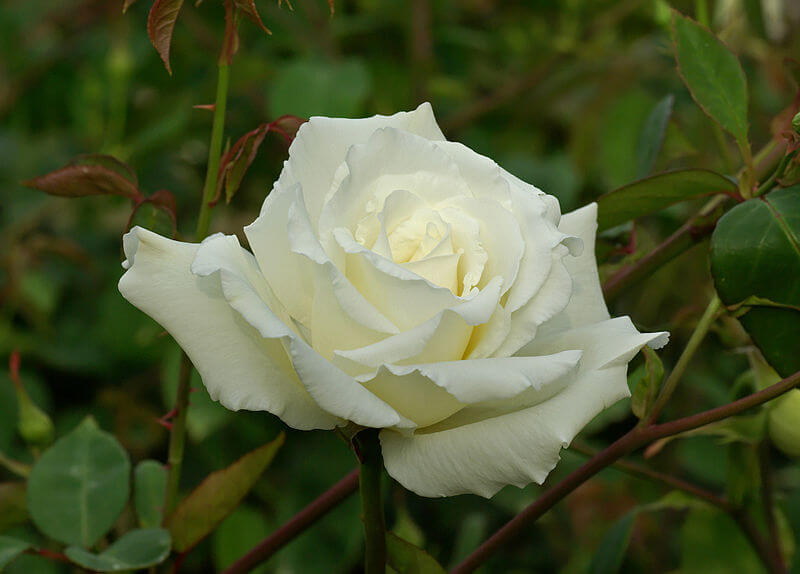 Rose (hybrid tea 'Mrs. Herbert Stevens')
Alan Wake characters
,
American Horror Story characters
,
Anne Rice characters
,
Archive 81 characters
,
Attack on Titan characters
,
baseball players
,
beauty
,
Bernie Taupin songs
,
Bridgerton characters
,
British royal family
,
Catholic saints
,
celebrity babies
,
Charles Dickens characters
,
colors
,
Desperate Housewives characters
,
Detroit Become Human characters
,
Dharma and Greg characters
,
Dionne family
,
Divergent characters
,
Doctor Who companions
,
Downton Abbey characters
,
Dragon Quest characters
,
DrakenNieR characters
,
Elliott Smith songs
,
English adjectives
,
English nature names
,
English nouns
,
English verbs
,
Enya songs
,
Ever After High characters
,
fame
,
first ladies of the USA
,
Flack characters
,
flora
,
flowers
,
Frasier characters
,
Fringe characters
,
Fullmetal Alchemist characters
,
Game of Thrones actors
,
Harry Belafonte repertoire
,
Harry Potter characters
,
Interpol songwriting
,
isograms
,
Jane the Virgin characters
,
Keeper of the Lost Cities characters
,
Keeping Up Appearances characters
,
Kennedy family
,
Lana Del Rey songs
,
Louisa May Alcott characters
,
Madonna songs
,
Mayflower passengers
,
Michael W Smith songs
,
Minecraft Story Mode characters
,
Miraculous Ladybug characters
,
models
,
My Little Pony characters
,
nature
,
never out of the US top 1000
,
Nintendo characters
,
paintings
,
Patti Smith songs
,
pink
,
plants
,
Pokemon characters
,
Poldark characters
,
Power Rangers characters
,
Rave Master characters
,
red
,
Redwall characters
,
Regular Show characters
,
Rick and Morty characters
,
Riverdale characters
,
rose
,
roses
,
Simon and Garfunkel songs
,
Sims 3 characters
,
song titles
,
Star Wars characters
,
Stephen King characters
,
Steven Universe characters
,
Street Fighter characters
,
Strike Witches characters
,
Sufjan Stevens songs
,
Switzerland in the Eurovision Song Contest
,
Tales characters
,
Tennessee Williams characters
,
The Beatles characters
,
The Four Hundred members
,
The Golden Girls characters
,
The Legend of Zelda characters
,
The Marvelous Mrs. Maisel characters
,
The Nanny characters
,
The Pretenders lyrics
,
The Smiths songs
,
Titanic characters
,
Tolkien characters
,
top 10 in France
,
Tori Amos lyrics
,
Tori Amos songs
,
Townes Van Zandt songs
,
TTC stations
,
Two and a Half Men characters
,
Ursula K. Le Guin characters
,
Vampire Diaries characters
,
Vashti Bunyan songs
,
Virginia Woolf characters
,
Will and Grace characters
,
WITCH characters
,
Witch Hunter characters
,
witches
,
word names
,
YouTubers