From the Hebrew name
דָּנִיֵּאל (Daniyyel)
meaning
"God is my judge"
, from the roots
דִּין (din)
meaning "to judge" and
אֵל ('el)
meaning "God". Daniel was a Hebrew prophet whose story is told in the Book of Daniel in the
Old Testament
. He lived during the Jewish captivity in Babylon, where he served in the court of the king, rising to prominence by interpreting the king's dreams. The book also presents Daniel's four visions of the end of the world.Due to the popularity of the biblical character, the name came into use in England during the Middle Ages. Though it became rare by the 15th century, it was revived after the
Protestant Reformation
. Famous bearers of this name include English author Daniel Defoe (1660-1731), Swiss mathematician Daniel Bernoulli (1700-1782), and American frontiersman Daniel Boone (1734-1820).
People think this name is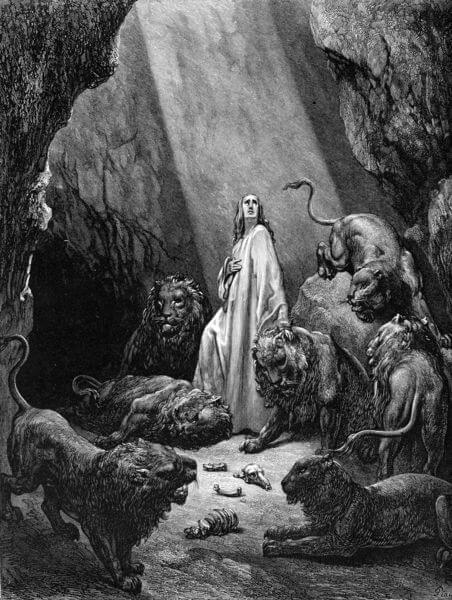 Daniel in the Den of Lions (1866) by Gustave Doré
Daniel (1866) by Gustave Doré
2020's Grand Slam tennis players
,
A Good Girl's Guide to Murder characters
,
Alan Wake characters
,
American Horror Story characters
,
American vice presidents
,
Anne Rice characters
,
architects
,
Australia in the Eurovision Song Contest
,
authors
,
Bernie Taupin songs
,
black history
,
books of the Bible
,
Charles Dickens characters
,
Chocolatier characters
,
D. H. Lawrence characters
,
Danny Phantom characters
,
David Mitchell characters
,
Detroit Become Human characters
,
Dharma and Greg characters
,
Dionne family
,
Dishonored characters
,
Disney characters
,
Downton Abbey characters
,
Dune characters
,
educators
,
Euphoria characters
,
explorers
,
Family Guy characters
,
figure skaters
,
Fleetwood Mac members
,
folk heroes
,
footballers
,
Formula One drivers
,
Frasier characters
,
Fringe characters
,
Germany in the Eurovision Song Contest
,
Grease
,
Heroes NBC characters
,
High Representatives for Bosnia and Herzegovina
,
House of Cards US characters
,
Irish presidents
,
isograms
,
justice
,
Louisa May Alcott characters
,
major prophets of the Old Testament
,
Malta in the Eurovision Song Contest
,
math
,
Michiko to Hatchin characters
,
mixed martial artists
,
Moral Orel characters
,
NASCAR
,
never out of the US top 100
,
never out of the US top 1000
,
North Macedonia in the Eurovision Song Contest
,
Once Upon a Time characters
,
Orthodox saints
,
politics
,
pop singers
,
Radford family
,
Ratched characters
,
Reconstructing Amelia characters
,
Robert A. Heinlein characters
,
Roseanne characters
,
sculptors
,
Sims 2 characters
,
Six Feet Under characters
,
Song of Horror characters
,
Spain in the Eurovision Song Contest
,
Star Wars actors
,
Swedish royal family
,
The IT Crowd characters
,
The Karate Kid and Cobra Kai characters
,
The Man in the High Castle characters
,
The Next Step characters
,
The West Wing characters
,
theophoric names
,
top 10 in Argentina
,
top 10 in Australia
,
top 10 in Brazil
,
top 10 in Ecuador
,
top 10 in Finland
,
top 10 in Galicia
,
top 10 in Ireland
,
top 10 in Israel
,
top 10 in New Zealand
,
top 10 in Northern Ireland
,
top 10 in Peru
,
top 10 in Romania
,
top 10 in South Africa
,
top 10 in Spain
,
top 10 in Tahiti
,
top 10 in the Philippines
,
top 10 in the US
,
top 10 in Venezuela
,
top 100 Portugal
,
TV show titles
,
Virtua Tennis opponent characters
,
Will and Grace characters
,
William Faulkner characters
,
WITCH characters
,
YouTubers