From the Turkic name
Bogoris
, perhaps meaning
"short"
or
"wolf"
or
"snow leopard"
. It was borne by the 9th-century King Boris I of Bulgaria who converted his country to Christianity, as well as two later Bulgarian emperors. The name was popularized in the
Slavic
world due to the 11th-century
Saint
Boris, who was a Russian prince martyred with his brother Gleb. His mother may have been Bulgarian. Another famous bearer was the 16th-century Russian emperor Boris Godunov, later the subject of a play of that name by Aleksandr Pushkin.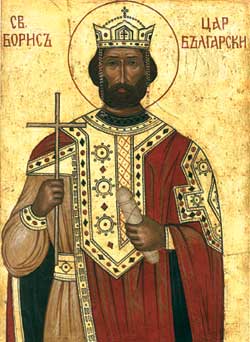 Icon depicting Boris I of Bulgaria
People think this name is
classic
mature
formal
strong
rough
strange
simple
serious
nerdy
Animal Crossing characters
,
animals
,
athletes
,
Attack on Titan characters
,
Black Lagoon characters
,
Caillou characters
,
canines
,
currently out of the US top 1000
,
Donna Tartt characters
,
emperors
,
ends in -is
,
Escaflowne characters
,
fauna
,
felines
,
House of Cards US characters
,
Hunters characters
,
kings
,
Legend of the Galactic Heroes characters
,
Leo Tolstoy characters
,
martyrs
,
Miffy and Friends characters
,
nature
,
North Macedonian presidents
,
Orthodox saints
,
Philip K Dick characters
,
politics
,
princes
,
Rugrats characters
,
Russian presidents
,
saints
,
Serbian presidents
,
sizes
,
snow
,
song titles
,
Suikoden characters
,
The Loud House characters
,
UK prime ministers
,
uncertain etymology
,
white
,
world leaders