From
Ἐλισάβετ (Elisabet)
, the Greek form of the Hebrew name
אֱלִישֶׁבַע ('Elisheva')
meaning
"my God is an oath"
, derived from the roots
אֵל ('el)
referring to the Hebrew God and
שָׁבַע (shava')
meaning "oath". The Hebrew form appears in the
Old Testament
where Elisheba is the wife of
Aaron
, while the Greek form appears in the
New Testament
where Elizabeth is the mother of
John
the Baptist.Among Christians, this name was originally more common in Eastern Europe. It was borne in the 12th century by
Saint
Elizabeth of Hungary, a daughter of King Andrew II who used her wealth to help the poor. In medieval England it was occasionally used in honour of the saint, though the form
Isabel
(from Occitan and Spanish) was more common. It has been very popular in England since the reign of Queen Elizabeth I in the 16th century. In American name statistics (as recorded since 1880) it has never ranked lower than 30, making it the most consistently popular name for girls in the United States.Besides Elizabeth I, this name has been borne (in various spellings) by many other European royals, including a ruling empress of Russia in the 18th century. Famous modern bearers include the British queen Elizabeth II (1926-2022) and actress Elizabeth Taylor (1932-2011).
People think this name is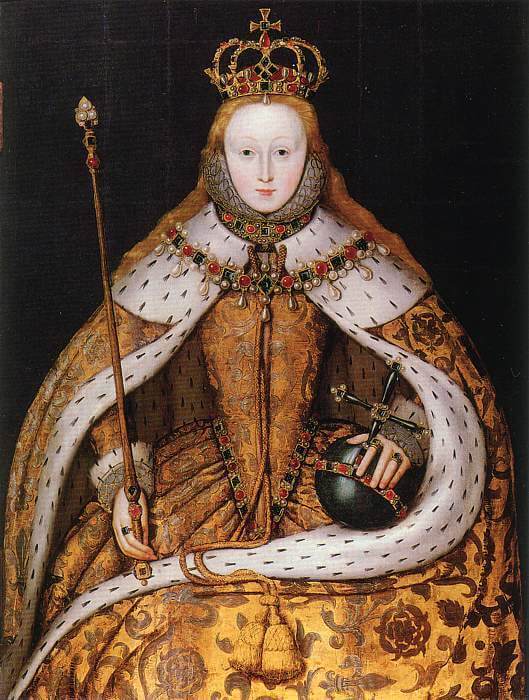 Queen Elizabeth I of England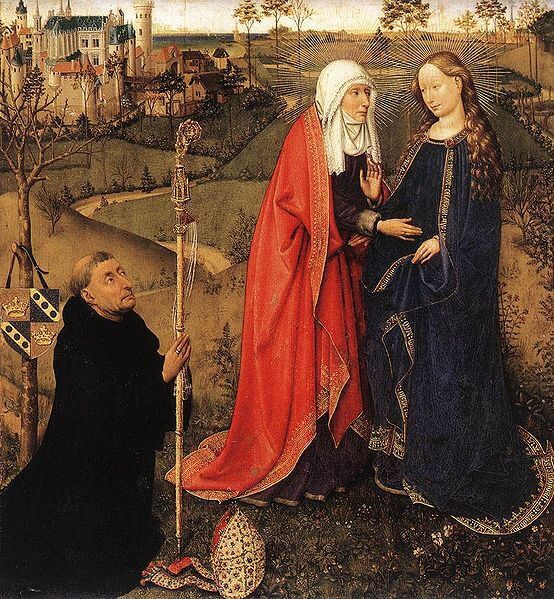 The Visitation by Daret (1435), with Saint Elizabeth in the center
African princesses
,
Alien characters
,
American Girl characters
,
American Horror Story characters
,
Anne Rice characters
,
Armistead Maupin characters
,
biblical women
,
Big Little Lies characters
,
Black Butler characters
,
black history
,
British queens
,
British royal family
,
Castlevania characters
,
child actors
,
children of Thomas Arthur Green
,
civil rights
,
Code Geass characters
,
colleges or universities
,
D. H. Lawrence characters
,
Dance Central characters
,
de Havilland family
,
Detroit Become Human characters
,
Dharma and Greg characters
,
Disney characters
,
educators
,
ends in -beth
,
English princesses
,
Family Affair characters
,
female US presidential candidates
,
film titles
,
first ladies of the USA
,
Five Nights at Freddy's characters
,
Flack characters
,
Frasier characters
,
Fringe characters
,
God
,
Hamilton characters
,
House of Cards US characters
,
Hunters characters
,
Jane Austen characters
,
Jojo's Bizarre Adventure characters
,
Keeper of the Lost Cities characters
,
Keeping Up Appearances characters
,
Kingdom Hearts characters
,
knights of the Spanish Golden Fleece
,
lawyers
,
Leo Tolstoy characters
,
LGBT history
,
literature
,
Little Rock Nine
,
Louisa May Alcott characters
,
Macross characters
,
Mad Men characters
,
Magi characters
,
Maud Hart Lovelace characters
,
Mayflower passengers
,
Megami Tensei characters
,
models
,
movies
,
Muppets
,
never out of the US top 100
,
never out of the US top 1000
,
Orthodox saints
,
Overwatch characters
,
people executed during the Salem witch trials
,
Poldark characters
,
politics
,
princesses
,
printmakers
,
queens
,
queens of England
,
queens of Scotland
,
queens regnant
,
Rosenkowitz sextuplets
,
Sailor Moon characters
,
saints
,
scientists
,
Shakespearean characters
,
Simpsons characters
,
Soul Eater characters
,
Star Trek characters
,
Stephen King characters
,
Strike Witches characters
,
The Crown's Game characters
,
The Four Hundred members
,
The Golden Girls characters
,
The Nanny characters
,
The Seven Deadly Sins characters
,
The Sopranos characters
,
The West Wing characters
,
theophoric names
,
Thomas Hardy characters
,
top 10 in South Africa
,
top 10 in Tanzania
,
top 10 in the Isle of Man
,
top 10 in the US
,
Trigun characters
,
TV presenters
,
UK prime ministers
,
Virginia Woolf characters
,
Vivy Fluorite Eye's Song characters
,
voice actors
,
Wild Arms characters
,
WITCH characters
,
wives of Brigham Young
,
wives of Joseph Smith
,
women's history
,
YouTubers